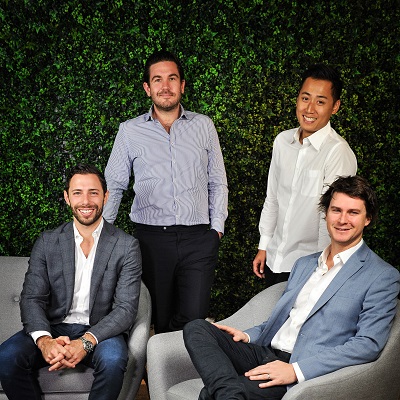 Australian FinTech company profile #70 – Lendi
1. Company Name: Lendi
2. Website: www.lendi.com.au
3. Key Staff & Titles:
David Hyman (co-founder and managing director)
Sebastian Watkins (co-founder and sales director)
Martin Lam (co-founder and operations director)
Mark Kalajzich (co-founder and chief product officer)
Jason King (chief financial officer)
Zara Cobb (chief marketing officer)
4. Location(s): Headquartered in Sydney with offices in Melbourne, Brisbane and Perth
5. In one sentence, what does your fintech do?:
Lendi is Australia's number one home loan platform, digitising the home loan process and bringing together smart technology and home loan specialists to help Australians compare, apply and settle their home loans online.
6. How / why did you start your fintech company?: 
The business was established in 2013 with the single-minded aim of providing Australian home loan customers with greater choice, transparency and ease throughout what can be a complex and time consuming process.
Three years later, in 2016, we launched the Lendi platform which is focused on creating a frictionless online customer experience while delivering transparency and convenience in an increasingly complex market.
7. What is the best thing your company has achieved or learnt along the way (this can include awards, capital raising etc)?:
Our business has always been guided by our belief that every Australian deserves to own their own home. Everything we have done, built or created in the last three years has been about helping more people achieve the great Australian dream.
Our biggest focus, and indeed our most important business behaviour has been to put the customer at the heart of all of our decision making. By doing this, we continue to stay one step ahead of our competitors while driving more positive outcomes for customers.
9. What's next for your company? And are you looking to expand overseas or stay focussed on Australia?:
Our current focus is to revolutionise the home loan market and customer experience in Australia and therefore we have no plans to look outside our shores at this stage.
This is a pivotal time for the home loan market and there has never been a more exciting time to be making meaningful changes to a process that has traditionally been offline, paper heavy, laborious and time consuming for both consumers and home loan specialists.
A recent development we are incredibly proud of is our newly launched Approval Confidence™ technology. In an industry-first, the Lendi platform now integrates directly with the back-end decision engines of some of Australia's biggest banks and lenders to assess a borrower's credit profile and personal information. The Approval Confidence™ rating system then indicates the likelihood of the approval of loan options from Lendi's integrated lender partners in real time and without impacting a borrower's credit score.