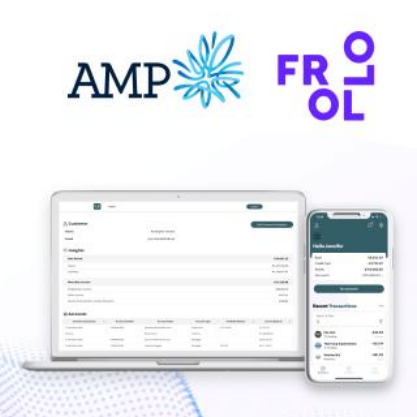 AMP Advice strengthens licensee offer by partnering with fintech Frollo
AMP Advice has partnered with leading fintech Frollo to provide financial advisers, mortgage brokers and their clients with access to Frollo's Open Banking technology and money management app.
Advisers and brokers in AMP's network can now select to include Frollo's Money Management Service as part of their licensee offer and provide their clients with access to a practice-branded version of Frollo's app.
Clients can then use the technology to create an aggregated view of their financial position and utilise Frollo's money management capability, including spending visualisations, loan details, budgeting, financial goals and smart insights.
Streamlining the advice process
Advisers and Brokers can securely access a user-friendly view of their clients' financial information and circumstances through the Frollo platform, streamlining the advice process and enabling more efficient 'fact finding' by removing the need for clients to manually provide data. Advisers and brokers can also monitor their client's ongoing financial position, identifying opportunities to add value.
Open Banking benefits
Open Banking under the Consumer Data Right gives consumers the right to securely share their data between service providers. The difference with traditional ways of sharing data is that Open Banking is:
Regulated – Access to data is only possible through accredited entities, with strict privacy and security protections
Rich – Consumer data sharing goes beyond bank transactions, including rates & fees, minimum repayments and credit limits
Reliable – Authenticated API connections provide reliable access to data in a consistent format
Real-time – High-performance APIs deliver consumer data in < 1 second
Matt Lawler, AMP Adviser Director said, "Our partnership with Frollo is part of AMP's strategy to partner with leading fintechs to provide best-in-breed technology solutions to customers, advisers and brokers.
"It reflects a commitment to providing our advice network with a contemporary and market-leading service proposition, which supports the delivery of high-quality advice and broking services.
"Frollo's technology streamlines the advice process and provides more opportunities for advisers to help their clients. Importantly, the tech platform also sets clients and advisers up to take full advantage of open banking as it evolves into other financial products in the coming years.
"Technology will play a central role in delivering quality advice to more Australians, and we're committed to providing our network with access to the latest and the best." 
Frollo's Chief Commercial Officer Simon Docherty said, "This partnership validates what we've been saying for a while now, that the Trusted Adviser Model will drive a lot of the adoption in Open Banking this year.
"Financial advisers and mortgage brokers are close to their clients and have a real need for efficient and secure sharing of financial information.
"We're excited that AMP is innovating and offering our Money Management app and Partner Portal to their network, as it helps them build a stronger relationship with their clients and be more proactive with their advice."