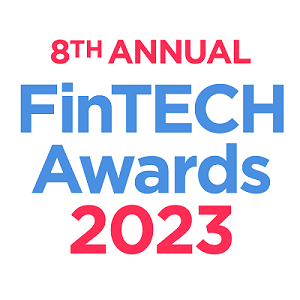 8th Annual FinTech Awards 2023: Finalists announced!
Now in it's eighth year, the FinTech Awards celebrate the entrepreneurs and Australian fintechs who are doing amazing things, growing their businesses, here in Australia, and overseas.
Judges have decided the three finalists in each category. Everyone in the fintech sector is looking for some good news – and here it is – the 8th Annual FinTech Awards 2023 are next week and we're ready to recognize the great entrepreneurial spirit of Australian fintech businesses!
"On behalf of our Event Partner, Ashurst, our numerous Supporters and Sponsors, and all the Judges involved, we would like to thank the fintechs who took the time to enter the Awards – the quality of the submissions is excellent – making it super hard for the Judges!" said Glen Frost, Founder of the FinTech Awards.
8th Annual FinTech Awards 2023: Finalists
AWARD CATEGORY
1          BEST FINTECH APP/WEBSITE
Company: Tanggram
Company: Raiz Invest
Company: WeMoney
2          BEST INNOVATION IN LENDING
Company: Bridgit
Company: Alex Bank
Company: Simplicity Loans
3          BEST HOME LOAN INNOVATION
Company: Funding.com.au
Company: Nimo Industries
Company: Simpology
4          BEST FINTECH-BANK COLLABORATION
Company: Thriday (& Regional Australia Bank)
Company: Household Capital (Citi Bank)
Company: Shaype (& Commonwealth Bank of Australia)
5          BEST FINTECH & NON-BANK COLLABORATION
Company: Household Capital (& Legal & General, and Helia, formerly Genworth)
Company: Downsizer (& Deposit Power)
Company: ProSpend (& Wise)
6          BEST USE of Ai IN FINTECH
Company: Alex Bank
Company: Tic:Toc
Company: Credit Clear
7          BEST INNOVATION IN PROPTECH 
Company: PropHero
Company: FrontYa
Company: Downsizer
8          BEST INNOVATION IN ALTERNATIVE INVESTMENTS
Company: Reach Alternative Investments
Company: FCX
Company: Birchal
9          BEST INNOVATION IN DIGITAL ASSETS
Company: Novatti Group Limited
Company: FCX
Company: KPMG Origins
10        BEST AccountingTech, Expense Management, Payroll & Benefits
Company: Thriday
Company: TaxLeopard
Company: ProSpend
11        BEST SUSTAINABILITY INITIATIVE
Company: Trace
Company: Pathzero
Company: My Greener Planet
12        YOUNG FINTECH LEADER OF THE YEAR (UNDER 35)
Jack O'Reilly; Founder: Funding.com.au
Sophie Hayek; Co-Founder: PropHero
Caleb Gibbins; Founder: Cache
13        FEMALE FINTECH LEADER OF THE YEAR
Effie Dimitropoulos, Executive Director – Stablecoin, Company: Novatti Group Limited
Kate Gubbins, Founder, Company: Simpology
Alison Sarich, Founder, Company: Complii FinTech Solutions
14        FINTECH LEADER OF THE YEAR
David Salkinder, Founder, Fundabl
Sophie Hayek; Co-Founder, PropHero
Caleb Gibbons, Founder, Cache
15        FAST STARTER AWARD
Company: Reach Alternative Investments
Company: Primary
Company: TaxLeopard
16        BEST FINTECH GROWTH STORY
Company: Bridgit
Company: Fundabl
Company: Alex Bank
17        ASHURST FINTECH STARTUP OF THE YEAR
Company: Alex Bank
Company: PropHero
Company: Birchal