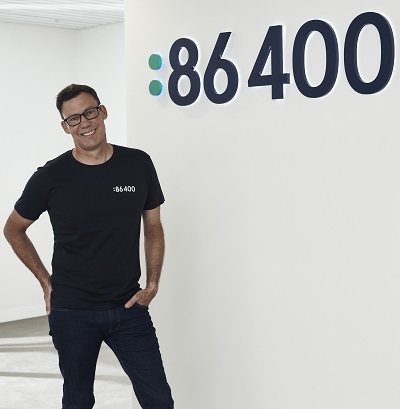 86 400 partners with Connective to offer the country's most innovative home loan to more Australians
86 400, Australia's first smartbank, has today signed a strategic partnership with aggregator, Connective, to further supercharge its broker network. Connective joins 11 partners and aggregators offering 86 400's smarter approach to home loans which means over half of all brokers in Australia can offer their clients the fastest and most streamlined home loan application process in the country.
Over the past 15 years, Connective has grown to become one of the strongest aggregators in the market, with more than 3,800 brokers on its books. One in eight home loans written in Australia are by Connective brokers.
Mark Haron, Executive Director at Connective, said, "86 400's approach to mortgages is transforming the process of buying a home for Australians. We look forward to working with the team to provide home buyers with greater choice and better value through our extensive broker network."
Robert Bell, CEO, 86 400 said, "Brokers and their customers want something that's digital and easy to use: that's why we developed our digital home loan product, and that's why we're thrilled to have partnered with Connective to help more Australians realise these benefits."
"Consumers are fed up with mortgage paperwork, so we've built a process with next to no paperwork. They're fed up with slow processing, so we're speeding it up with decisions made in just a few hours. They're fed up with high fees and rates so we've brought in low fees and great rates."
More than just competitive rates
Since launching its home loan product in November 2019, brokers have been quick to take advantage of 86 400's fully digital solution, which delivers the fastest time to a home loan decision, and next to no paperwork.
86 400 remains the only newly licensed bank in Australia with both home loan and everyday banking products in market and the only digital home loan for brokers. The digital solution has dramatically streamlined both the application and approval processes, offering simplicity and speed to brokers and customers alike.
The electronic capturing of income and expenses which is auto populated into the application form has greatly simplified what was a complicated and lengthy process. Coupled with an Australian-based lending operations and contact centre team, 86 400 is turning the entire home loans process on its head and bucking industry trends of slowing approval times during the current global turbulence, to give a decision in a matter of hours.
"We've said from day one that we're not interested in building a niche bank. We have a long-term, sustainable business model, which balances both sides of the ledger, and are busy building and rolling out products and partnerships we know our customers want," Bell said.
To find out more about 86 400 home loans, please visit: www.86400.com.au/homeloans