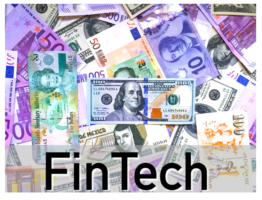 2 Upcoming FinTech IPOs
For decades financial services in numerous flavours were the exclusive province of the banking sector. To get a loan, pay bills, apply for credit cards, or transfer money, consumers and corporations alike turned to banks.

It is hard to imagine the rise of the Internet is little more than 20 years old and the rise of smartphones is even more recent – less than 10 years. As a direct result new industries are emerging, among them FinTech, or financial technology.

FinTech companies offer alternatives to the banks and as such stand ready to massively disrupt the way financial services are delivered. Direct peer-to-peer lending and crowdfunding are changing the way consumers and corporations raise funds. P2P (Peer to Peer) lending companies secure funds from willing investors looking for higher interest rates and match investors with appropriate borrowers. Crowdfunding is a revolutionary approach replacing bank or venture capital loans. A company's crowdfunding platform posts a given project allowing investors of all types to fund the project.

Mobile payment platforms allow consumers to use smartphones to pay for goods from merchants with a mobile payment system in place. The providers use cloud-based software to process the payments for their clients, eliminating this source of revenue from traditional banks. Global consulting firm Accenture claims these mobile payment systems could reduce revenue at traditional banks by as much as one third by the year 2020. It should come as no surprise that across the globe the public perception of traditional banks has deteriorated following the GFC, while smartphone technology is revolutionising the daily lives of people and businesses everywhere.

One of the more successful mobile payment providers on the ASX is Mobile Embrace Limited (MBE). In addition to its mobile payment services, the company provides marketing capabilities to its customers, allowing direct digital communication between businesses and their customers. Mobile Embrace has rewarded its shareholders handsomely, with average annual rates of total shareholder return of 52.2% over five years and 141.2% over three years. Year over year the MBE share price is up 11.3%. Total shareholder return for pure play mobile payment provider Mint Payments Limited (MNW) over three years is 62.6% with a year over year share price increase of 43.3%.

Two FinTech companies that listed on the ASX in 2015 via the "back door" remind us of the risk and reward of investing in start-up companies of any kind. Directmoney Limited (DM1) is a P2P lender. Zipmoney Limited (ZML) provides qualifying consumers with point-of-sale credit digitally as well as mobile payment services. Back door listings, or reverse mergers, allow companies looking to list on the ASX to forego the traditional IPO process by being taken over by a "shell" company that is no longer operational, but is still listed on the ASX.
To read more please click on the link below…