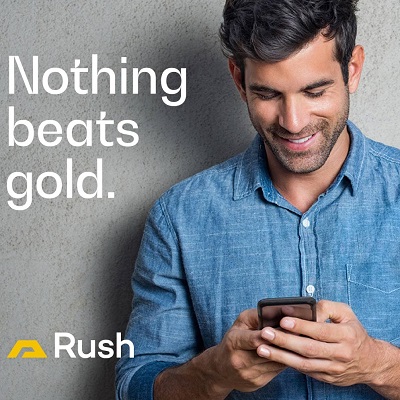 Why the Rush?
Say goodbye to SendGold, and say hello to Rush.
Ever since SendGold launched in 2016 as a world-first digital gold service, they've continued to innovate and evolve, and it's clear that they've outgrown their original name.
"When we started, we literally decided on the SendGold name and logo in an hour," says Rush Founder and CEO Jodi Stanton, "But as we've grown, our customers have seen us as far more than just sending gold."
Rush has transformed the world's oldest trusted currency into the newest, enabling you to own real gold, and spend it, gift it, grow it, trade it, exchange it… and there's more to come very soon.
Throughout history, gold has triggered a highly emotional connection. Making gold flow freely, easily and quickly for the 21st Century, Rush embodies the thrill of gold.
"The brand began as a functional explanation but our customers have such a deeper connection to having the power of gold in their hands. Rush really captures that feeling for our growing global market."
Rush is now in over 13 countries and has grown transaction volumes over 1000% in 2020. Taking gold into entirely new markets, Rush has expanded the platform utility, accessibility and liquidity of gold.
The rebrand is just another way Rush continues to innovate the gold sector.
Rush's growing Gold-as-a-Service business offer (GaaS) is gaining clients from all around the globe with some of the world's largest brands now offering gold to their employees.
The world-first GaaS platform has new APIs to help companies across many sectors find new opportunities via various gold digital monetisation options.
With inflation now higher than interest rates, people and businesses like you are rushing to gold. Rush even helps businesses save money on gold client transactions and payments, as well as reward their teams, clients and customers with gold.
"We are definitely at the beginning of a new kind of gold rush."