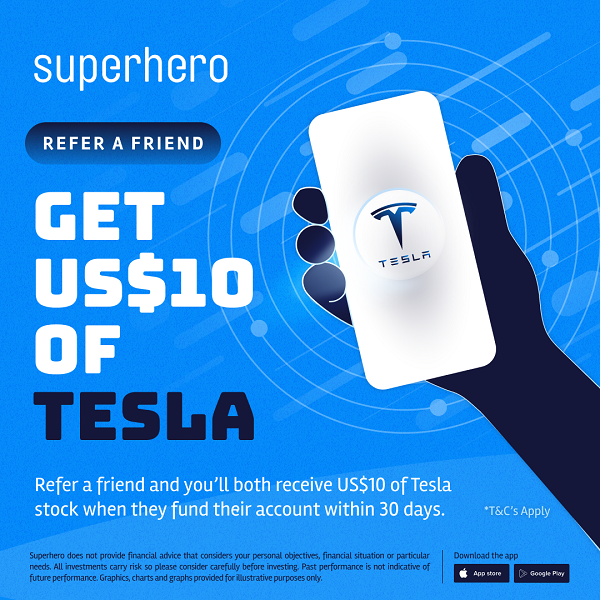 Want $10 of TSLA on Superhero?
Leading share trading and superannuation platform Superhero has announced that both existing and new, referred Superhero investors will now be rewarded with US$10 of Tesla (NASDAQ:TSLA) shares as part of its referral program.
Both investors will earn the reward once the referred friend signs up to Superhero using the unique link, creates a valid Superhero trading account and deposits A$100 or more in their Superhero Wallet within 30 days of signing up.
CEO and Co-Founder of Superhero, John Winters said, "Tesla is consistently one of the most traded stocks on Superhero and by rewarding investors with US$10 of TSLA, we're hoping to support investors in building their wealth with a stock we know a lot of investors are interested in."
Superhero's referral program has been popular since its launch in late January. The extension of the program to now reward investors with US$10 of Tesla comes as the electric car company was named Superhero's most traded U.S. stock in 2021, a title it has kept in 2022 so far.
"Our focus has always been to support our investors and our referral program is just one way Superhero investors are able to kickstart their investing journey – on us!" Winters continued.
Existing Superhero users can find their unique referral link in the Profile tab of their individual Superhero account both in app and via their web browser.
For more details and to sign up, please go here.