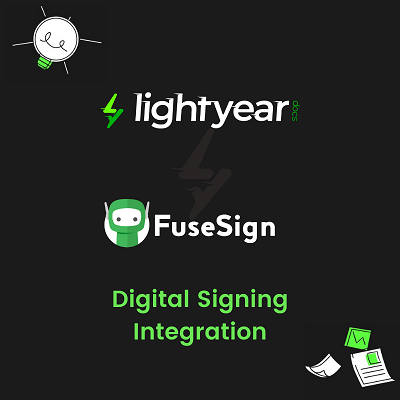 Two Brisbane tech start-ups unite to reform legal wet signature laws
LightYear Docs, (Winner of 'Number one start-up in Finance & Wealth') has announced a partnership with leading digital signature platform FuseSign.
"We're pushing the boundaries of what can be digitally signed with our revolutionary new platform, launching Dec 2nd 2021," said Ashleigh Jaremyn, Director of LightYear Docs. "With our associated law firm Abbott & Mourly Lawyers we've reviewed over 150 documents, processes and procedures to decipher where and when a digital signature is effective and when a wet signature is needed."
"FuseSign was our number 1 choice because it is purpose-built for Professional Service firms that need simplicity when managing complex signing with multiple documents and signers. In-built with secure Two-Factor Authentication (2FA) and complete mobile signing experience, it's powerful yet simple – making for a fabulous client experience for documents sent from LightYear Docs."
At the Brisbane launch, LightYear Docs, together with FuseSign will be highlighting digital signatures and how the digital signing landscape will be changing forever.
Positive Beta Testing Feedback
LightYear Docs has been in beta testing for the last six months.
Miss Jaremyn said, "It has had phenomenal reviews. We are about to introduce a brand-new way for accountants and financial planners to generate tax, superannuation, legal, succession, asset protection and estate planning documents. The digital signature side of the compliance formula was crucial to give us our competitive edge, and with FuseSign we have the best of breed in the industry."