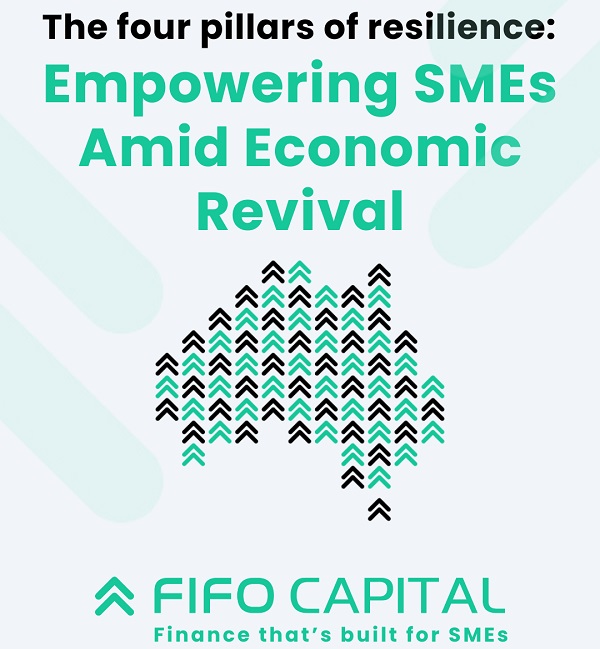 The four pillars of resilience: Empowering SMEs Amid Economic Revival
SME businesses are the engine room of the Australian economy. As the economy rebounds, it's essential for SMEs to be aware of the risks of complacency. Failing to prepare for challenges like rising inflation, demographic shifts, and climate-related fiscal pressures can have serious consequences. SMEs must take an active role in securing their future prosperity and influencing the nation's economy.
The Four Pillars of SME Resilience:
Strategic Financial Planning: SMEs must embrace strategic financial planning to anticipate challenges and seize opportunities.
Building Cash Reserves: Establishing financial safety nets is essential for weathering unexpected adversity.
Efficient Financial Management: Fifopay, a digital financial tool, simplifies cash flow management and ensures financial stability.
Proactive Growth: SMEs should focus on expansion, diversification, and prudent investments to ensure long-term success.
Strength in Business Resilience
As the economy undergoes a revival, the spotlight is on building resilient strategies for SMEs. Wayne Morris, CEO at Fifo Capital, underlines the need for proactive financial planning:
"In today's turbulent economy, Australian SMEs must act proactively and think strategically about their financial health. The new generation of business owners is acutely aware of the importance of laying a strong financial foundation, preparing for challenges, and capitalising on opportunities."
Supply Chains and Working Capital: The Key to Resilience
Fifo underscores the pivotal role of supply chains and working capital in achieving financial resilience. In today's economy, efficient working capital management and strategic growth planning are fundamental for SMEs:
"Effective supply chain management and optimising working capital are the bedrock of business resilience. They empower SMEs to adapt to market changes, fulfill customer demands, and invest in growth opportunities," explains Mr. Morris.
Fifopay: Your Digital Financial Ally
Fifopay, Fifo's cutting-edge cash flow management tool, simplifies financial management for SMEs, functioning as a digital CFO:
"Fifopay is a game-changer for SMEs. It's like having a digital CFO at your disposal, helping SMEs manage cash flow stress, offering insights, and ensuring financial robustness," adds Wayne Morris.
Empowering SMEs for Success
Fifo offers tailored financial solutions designed to empower SMEs on their path to success. Complementing Fifopay, these solutions include:
– Efficient Working Capital Management: Ensuring businesses have the liquidity needed to operate effectively, seize opportunities, and weather financial uncertainties.
– Strategic Growth Planning: Guiding businesses on expansion, diversification, and smart investments in an ever-changing landscape.
– Building Resilience in Your Business: Equipping businesses to proactively manage risks and resources for financial resilience.