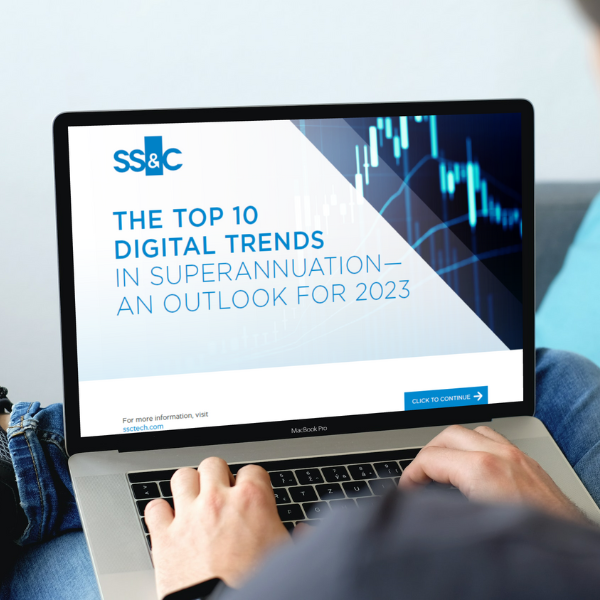 SS&C share the top 10 digital trends in Super for 2023
Written by Shaun McKenna, Chief Revenue Officer APAC, SS&C Technologies.
10 Digital Trends in Superannuation: What to Expect in 2023
Since the implementation of the Your Future, Your Super (YFYS) reform package, we have seen some intense shifts in the industry. These technology shifts were accelerated by the COVID-19 pandemic and accompanied by a significant uptick in mergers & acquisitions. Additionally, the global reset of everyone's relationship with work has fueled a talent war across multiple sectors. Together, these conditions have created an environment where digital solutions are no longer a "nice-to-have"—they are necessary to thrive.
True Digital Transformation: Embracing digital to the core—Microservices, or independent yet interoperable modules, reduce the cost of digital transformation and enhance the member experience. A strong digital foundation is a prerequisite for achieving a competitive advantage.
Intelligent automation adoption for great member experiences—Artificial Intelligence (AI) and Robotic Process Automation (RPA) can be used together to remove manual touchpoints, intercept opportunities and prevent crises. Funds can use intelligent automation to manage repetitive, high-value and/or low-value interactions to focus resources on more important aspects of fund management like one-on-one advising and nurturing employer relationships.
Cybersecurity: building resilience and protection for the future—Funds are a particularly attractive target for cyberattacks. Being proactive and going above and beyond what is required will pay dividends. This is another area where microservices are helpful—simplifying the analysis, reporting, maintenance, data management and security requirements.
One core registry solution following a merger or acquisition—Following a merger or acquisition, funds are often facing the challenge of disparate systems and registries. Funds need a solution capable of supporting the cumbersome process of migrations and transition.
Focus shifts in mega fund mentality—Fund consolidation has been an ongoing trend, and is expected to continue. The mega funds created by these consolidations ensure better member returns, but also come with operational challenges that increase both risk and reward. A strong command of the fund's technology and tech-related processes helps mitigate those risks.
Regulation changes: inching closer to the biggest challenge in town—Regulations and compliance requirements change over time. Microservices are a cost-effective way to update systems and stay compliant.
Investing now for increased efficiency—The pace and complexity of technology and digital execution continue to accelerate. Funds should invest not only to increase efficiency, but also to ensure survival in the future.
Member demands for ESG amid rising climate concerns—As the ESG trend accelerates, research is beginning to show that funds that implement responsible investment practices outperform peers, and market share has started to shift towards funds considered to be leaders in ESG. In an environment where extreme weather events are becoming more common, this trend is likely to continue.
People and the war for talent—With the rise of remote and hybrid workplace models, digital technology that offers more flexibility has become an essential tool for talent retention.
Workforce composition: strategic outsourcing as a competitive advantage—As funds explore alternative operating models, many are choosing to outsource some or all back-office functions.