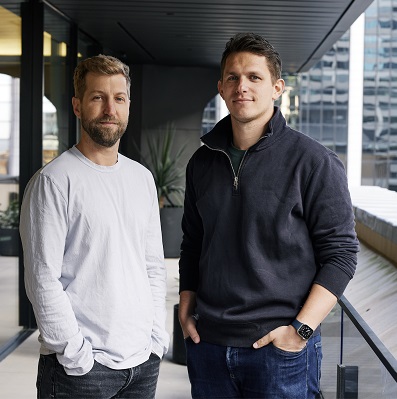 Side Stage Ventures announces first close of $15m with new seed fund
The team behind Side Stage Ventures has announced a $15m first close of their new founder-led seed fund backing entrepreneurs in the earliest stages of building companies.
The fund is led by Ben Grabiner and Markus Kahlbetzer, who have founded and invested in numerous category leaders and industry-shapers. Grabiner co-founded the UK creator platform, Platoon, which helped launch the career of Billie Eilish, and has since been acquired by Apple. Prior to this, he was an early stage investor at leading UK seed stage fund, LocalGlobe, early backers of Wise, TravelPerk and Robinhood. Kahlbetzer has founded numerous Australian companies including proptech innovator BrickX and investment firm BridgeLane, early backers of Airtasker and amaysim. He was also a founding partner at Tank Stream Ventures which led the Seed round of Australian success story, Go1.
They are joined by some of Australia's luminary founders as Venture Partners including, Alex and Anthony Zaccaria (Linktree), Matt Allen (Tractor Ventures) and Jaddan Comerford (Unified Music).
The fund is the evolution of Side Stage Ventures' investment syndicate which launched last year and has invested millions in startups here and abroad, including Heaps Normal, Mr Yum, EQL and more. The success of the syndicate and positive reaction from founders and investors sparked the move to launch a fund.
Leveraging the founding team's global network and their experiences as founders, Side Stage Ventures will write $500k cheques to the very best founders in Australia and provide access to a community to help founders build and scale.
The fund will focus primarily at the Seed stage, offering the first cheque to founders and their teams at the earliest stages of company building.
Side Stage Ventures' first fund has already backed three fast-growing startups in health, generative AI and HR, including online pain management platform, More Good Days.
While 2022 saw a global slowdown in venture funding, seed stage deal activity in Australia bucked the trend producing a high level of world-class talent. Side Stage Ventures is carving out a niche for backing some of the most exceptional founders in Australia's startup ecosystem. The fund will have a multi-sector focus, ultimately backing the people that are solving the biggest and most ambitious problems.
Several founders and investors from Australia and overseas have backed the fund as LPs including Go1 co-founder Andrew Barnes, Airtasker co- founder Tim Fung and UK-based venture fund and fund-of-funds, LocalGlobe.
Ben Grabiner, Co-Founder and General Partner of Side Stage Ventures said, "We're a collective of founders building the fund we wish we had when we were starting out.
"As founders ourselves, we have been through the highs and lows of building companies and we're super focused on building the best possible offering and community for the founders that we back. The success of the syndicate showed us just how valuable it can be to have founders on the cap table and we know we can help many more entrepreneurs build and scale great ideas, with this new fund.
"Australia is already proving itself as a hub for some of the best founders in the world, and we're excited to continue to support and invest in them, and with it, shape the future of tomorrow."
Markus Kahlbetzer, Co-Founder and General Partner of Side Stage Ventures said, "The start-up ecosystem in Australia is ripe with innovation, yet the potential is still ahead of us. We've seen several category-leading companies being built here, presenting a breeding ground for future founders. We have world class talent, a burgeoning startup ecosystem, government support and plenty of other competitive advantages in a post-COVID world that can transform Australia into a world leading innovation hub. There has never been a better time to build and invest in Australia than now."
Anthony Zaccaria, Co-Founder & Venture Partner at Side Stage Ventures and Co-Founder of Linktree said, "Side Stage Ventures is founded by founders for founders. Most of us are still running our own companies right now and so understand what it takes to build and scale global companies. This gives us a unique ability to understand and support founders along the journey.
"That is really what Side Stage Ventures is about — a special community of founders backing other founders with the same passion and enthusiasm and belief that we have in our own companies."