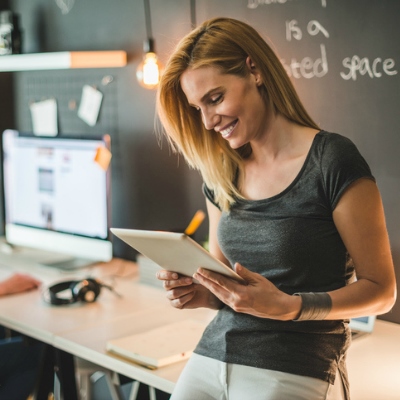 Prospa survey shows no rest for SMEs this holiday season
A new study has revealed just how hard small businesses are working this holiday season, particularly in regional Australia.
The survey of 506 small business owners was commissioned by Prospa, Australia's #1 online lender to small business and conducted by PureProfile. As corporates and big business start to wind down across the country, the survey showed that more than half of small business owners won't be cutting down their hours over the holiday season. 57% of small business owners surveyed said they will work either more or the same number of hours during this time and half (49%) said they were planning to take only public holidays off or no days at all.
While the average Australian takes 14 days of leave each year[1], 4 in 10 (39%) small business owners admitted they hadn't had a break of more than a few days in over a year or even since they began their business. Despite this, around 1 in 2 (47%) still feel guilty about the idea of taking a holiday.
The most common reasons small business had for feeling guilty were that they couldn't afford to not be working (45%) and would be too worried about business cash flow if they did take some time off (42%).
While small business owners are working long hours during December, over half (53%) of those surveyed were feeling optimistic and excited about the impact of the upcoming holiday period on their business, compared with 37% who admitted feeling worried and stressed 
Regional businesses putting in the hard yards  
The research showed that regional businesses in particular are putting in the hard yards this holiday season.
Regional businesses were less likely than their metro counterparts to find the holiday period a quiet time of year (19% compared with 32%) and were more likely to report working more or the same hours during this time (62% compared with 55%).
Regional businesses were also more likely than metro businesses to feel guilty about taking a holiday (51% versus 45%) and to worry about needing to close their business to customers that rely on them (44% compared with only 30% of metro businesses).
Skipping holidays was also more common among regional business owners. 46% reported not having taken a holiday in over a year or since they started their business, compared with 36% of metro businesses. More than half (56%) of regional businesses were planning to take only public holidays off or no time at all off, compared with 45% of metro businesses.
Brooke Sainsbury is the co-owner of Clementine Restaurant in Yass, NSW, which she runs with her husband.
"We wanted to set up our own restaurant [and] wanted to do it in a regional area rather than a capital city and found the lovely town of Yass," said Sainsbury. "We're mainly supported by the locals but also about 40% of our customers are from Canberra, Sydney or Melbourne."
"It's generally our most profitable time of year, but our staff costs are at the highest because you need more people on and we just need to do a lot of pre-planning with the menu to make sure we've got enough produce to get us through the periods when [our suppliers] are shut down. Over the last twelve to twenty-four months, the cost of food has gone up, particularly meat, because of the drought … so we're finding that's squeezing us a bit."
Giving small business a boost
The research also showed that nearly 6 in 10 (57%) small business owners believe their business would benefit from extra funding to prepare for the end of year holiday period.
On running a small business during the holiday season, owner of Sydney-based florist Verdaflore, Julie Wallace said, "As a small business owner, I've got to keep the shop running so we can be there for our customers when they need us. Early morning trips to the market, late evenings working on the business, updating the website, completing orders. There's a lot going on.
"December really is our busiest month of the year and totally outdoes Valentine's Day for us, but it's also my favourite as it's usually so upbeat and fast paced! I'm a little tired by Christmas Day but I love it. As well as all our Christmas orders, the usual celebrations like birthdays and weddings are still occurring so we have to fit those in as well … we want to make the most of these opportunities."
Commenting on the findings, Prospa co-founder and joint CEO Beau Bertoli said, "Today's research reinforces that hardworking small business owners in Australia don't get much of a break, even over the holiday season. The pressure is on during this time of year, whether they're a small retailer stocking up for holiday sales or a beachside café needing extra staff for peak tourist season. Even those experiencing a quiet period can find it hard to properly switch off when they have bills, rent, and wages to cover. Small businesses are aware of the benefit that accessing extra funding would bring to their business, but many still aren't aware of the different options out there to help them grow and run their business."
"I encourage small business owners across Australia to chat to their brokers and accountants about funding solutions that can give their business a boost. Alternative lenders like Prospa offer fast access to funding so businesses can really thrive during this end of year period. We've also taken on feedback from the small business community. We currently have an offer providing small business owners with a six-week no repayments period that they can take whenever it suits them, because we know every small business is different."
---
[1] Expedia, 'Vacation Deprivation' study, 2018