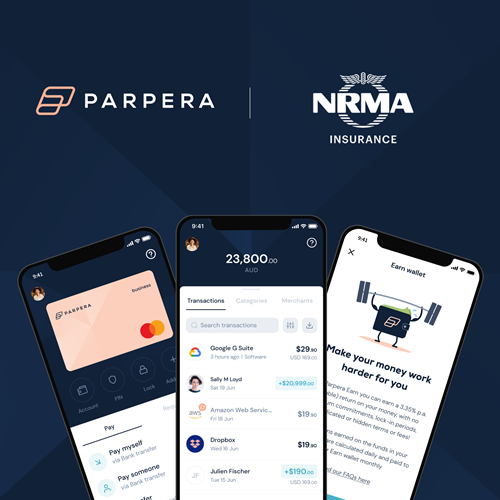 Parpera pioneers 'Marketplace Banking' in Australia
Parpera, an all-in-one solution that empowers people to make business easier, introduces the innovative 'Marketplace Banking' model to Australia.
The Parpera Marketplace Banking model marks the beginning of a new era in integrated financial services for Australian businesses with more choices, greater convenience and a more streamlined experience in a single app, enabling businesses to manage their finances and risks more efficiently and effectively.
Unlike traditional banking solutions that often operate in silos, the Parpera model provides a unified platform that integrates diverse financial products and services, such as banking and insurance, in the one place.
One of the key risks for business owners can be underinsurance, leaving them vulnerable and reducing their ability to bounce back in the face of unforeseen circumstances.
To help address this challenge, Parpera has integrated NRMA Insurance business policies into the Parpera App, making insurance cover more easily accessible for businesses.
The integration of insurance and financial management solutions on the one platform aims to assist business owners in making important decisions about the products available to them.
Daniel Cannizzaro, Founder and CEO of Parpera, said, "Our marketplace is another step towards reshaping the financial landscape in Australia. By bridging the gap between banking, business financial management, and insurance, we aim to provide businesses with a solution that meets their end-to-end business needs and strengthens their financial future.
"The marketplace demonstrates the transformative potential of collaboration across financial services. As the first of its kind in Australia, this model is set to pave the way for a more interconnected, efficient, and resilient financial ecosystem."
NRMA Insurance is the first partner to join the Parpera Marketplace in a trial that will offer Parpera member's a range of insurance options for their business.
NRMA Insurance Executive General Manager Matthew Bennett said:
"We are proud to partner with Parpera to help more people protect their businesses and livelihoods from the unexpected. We know that every Australian business has its own unique requirements and Parpera's integrated platform allows business owners to research the insurance products available to them, choose a policy that best suits their needs and circumstances, and to focus on growing their business with the peace of mind that comes with having the right cover in place."
The Parpera Marketplace is available for all eligible Parpera members starting today and can be enjoyed alongside existing Parpera App benefits at no additional charge.
Sole Traders, or Companies, looking for business insurance solutions can access the NRMA insurance offer* through the Parpera App today by opening a Parpera account or learning more at parpera.com.