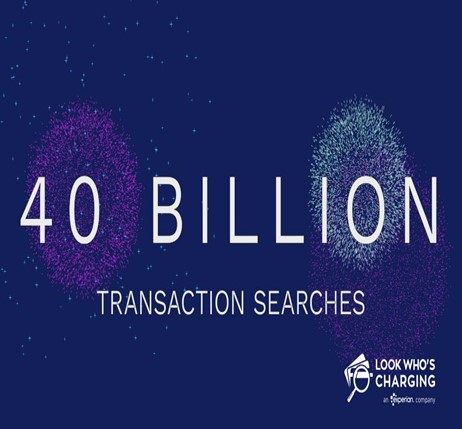 Look Who's Charging passes landmark milestone of enriching 40 billion transactions
Look Who's Charging, an Experian company, is proud to announce that the company has reached a record milestone. Over 40 billion individual transactions have now passed through Look Who's Charging's search engine.
This equates to a current run-rate of more than 3 billion transactions a month, which, according to recent RBA statistics, is about six times the total Australian volume of Visa, Mastercard, Amex and EFTPOS combined.
The growth has been driven by a combination of increased penetration within digital banking applications of Look Who's Charging's core enrichment technology, which now reaches over 70% of the Australian population but also by the rapid uptake of Look Who's Charging's 'Money Tracker' and 'Loan' APIs.
David Washbrook, Look Who's Charging Co-Founder, said "Reaching 40 billion transactions within a few years of launching is an outstanding milestone for Look Who's Charging. Look Who's Charging has saved millions of hours in time for everyday Australians and banks' frontline employees.  More recently, the technology has enabled financial institutions to make quicker and more accurate lending decisions as well as additional functionality for consumers to better manage their finances."
"We are extremely pleased that our solution is adding real value to both the banks and their customers alike."