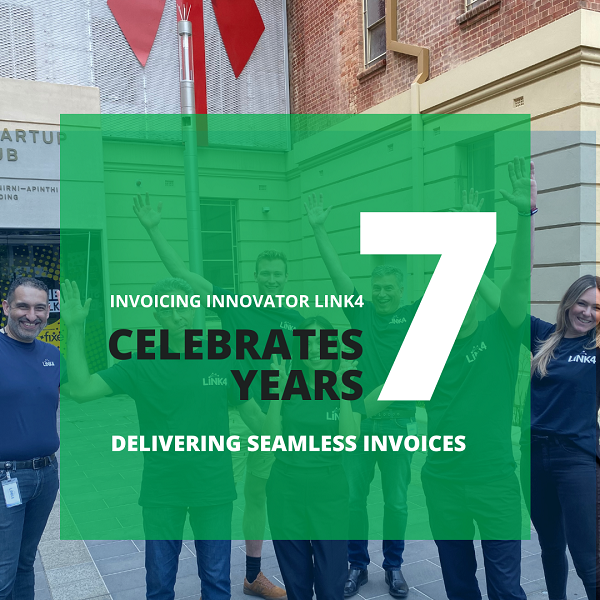 Link4 celebrates 7 years of empowering businesses with eInvoicing
Link4, the Australian eInvoicing innovators, are thrilled to mark their remarkable 7-year journey of success, growth, and customer-centric innovation.
The company has helped more than 5,000 organisations adopt eInvoicing, including small business owners, enterprises and all levels of government.
Currently, Link4 has over 50 government entities under their portfolio including the Australian Department of Treasury (the first government agency to join the eInvoicing network) and Devonport City Council (the first city council in Australia to join the eInvoicing network). Today, Link4 is recognised as the most popular Access Point used by Federal Government Departments.
Other highlights of the company's inspiring history include:
Presenting to the Head of IT and Head of Finance for the Royal Household in Buckingham Palace
Winning a global elevator pitch competition – in an elevator (Hong Kong)
Australian Fintech Start Up of the Year, 2018
Achieving 'Built for NetSuite' status in 2023
Noting this milestone, Robin Sands, CEO of Link4, said, "We are thrilled to celebrate the 7th anniversary and reflect on our journey. We are proud to have made a positive impact on businesses and people's lives while building a reputation as eInvoicing leaders."
"We are excited to be celebrating 7 years since the inception of Link4. It has been an incredible journey, and we are proud of the work we have done in revolutionising the eInvoicing industry in Australia, New Zealand and Singapore," added Sam Hassan, CTO of Link4.
eInvoicing is one of the greatest innovations to hit the accounting sector in recent years. Looking ahead, Link4 continues to be focused on spreading the availability of this service to businesses of all sizes. With offices in Australia, Singapore, Malaysia, and Sri Lanka, Link4 enables their customers who are spread across the region to achieve their invoicing goals.
"Our success is a testament to the hard work and dedication of our team, and we look forward to continuing to innovate and improve the eInvoicing experience for our customers in many countries around the world," said Hassan.
The experience collected along the years and the company's very own roots equip Link4 with the capability to provide eInvoicing services to any country. As such, the company is closely monitoring the upcoming eInvoicing mandate in Malaysia, the finalisation of the eInvoicing standards in the United States, and for the United Kingdom to be closer to being culturally ready for eInvoicing, to align Link4's further overseas expansion plans in 2024.
"I congratulate Link4 for their success, at home and across the globe," mentioned Don Farrell, Trade Minister, Australia.