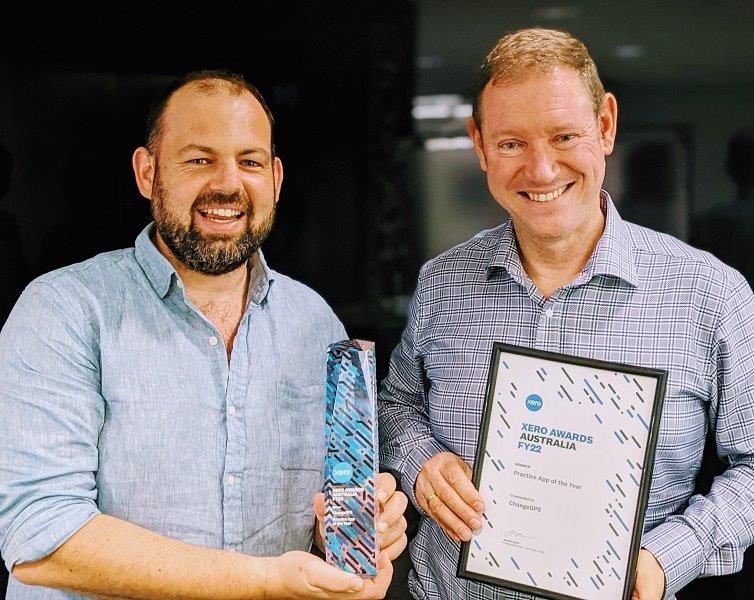 Leading Brisbane fintech wins prestigious tech award
Fintech leader ChangeGPS has been awarded the coveted FY-22 Xero Practice App of the Year for the timely support it provided thousands of accountants through the most critical periods of the pandemic.   
ChangeGPS developed a suite of free tools to assist accountants to deliver critical business advice to their clients through COVID-19. This assisted small businesses to access millions of dollars in support payments, which in many cases allowed the business to remain viable.  
The Xero Practice App of the Year award recognises innovation and advocacy in the accounting technology sector. This award acknowledges ChangeGPS's unwavering support of and commitment to its clients through the pandemic and beyond.   
"It is a privilege to win this award from a group of such esteemed finalists. We viewed the pandemic as an opportunity to take a leadership role to help accountants make better business decisions, and it's so rewarding to be acknowledged for our work. I would like to thank Xero and the judges," said ChangeGPS CEO David Boyar.  
As an example of the support it provides, two days after the federal government launched JobKeeper, ChangeGPS hosted a live webinar with an audience of 1,900 accountants to help them to rise to the challenge during their busiest-ever period. The event underscored the importance of appropriately charging for their services and prioritising their wellbeing, so they could in turn back their often very stressed clients.   
Commenting on the award, Xero Managing Director for Australia and Asia, Joseph Lyons, said, "ChangeGPS is always looking for ways to help accountants deliver a best practice approach and to support their clients to continue to add value to the small business community that's so vital to the success of the Australian economy."  
Brisbane fintech ChangeGPS continues to invest in its market-leading suite of digital, cloud-based accountant practice management tools to ensure its clients are positioned for success in 2022.