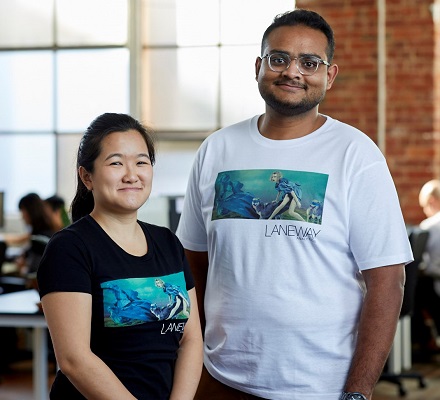 Laneway Analytics responds to demands for data science expertise in the super industry with internal promotion and new hire
Data analytics fintech, Laneway Analytics today announced the internal promotion of existing analytics solutions engineer, Janice Tam, and addition of a new data scientist, Harsha Vardhan Jarugu, to its team.
"We do things differently here at Laneway Analytics and our goal is to make analytics easier for our super fund clients and their members. Our team is focused on transforming how data analytics can be even more useful as we think data has even more opportunity to benefit the industry. This rounds out our team with the skills to extend our superfund analytics platform with deeper levels of machine learning and Artificial Intelligence (AI) and bespoke data science models for our customers," said Grant Callaghan, CEO of Laneway Analytics.
These changes to the team will further underpin the company's professional services growth and product development of its Provident Lane Analytics Platform. Provident Lane is currently implemented in super fund environments to deliver better data outcomes for the fund and their members. Additionally, the company is focusing on the development and roll out of its AI-driven analytics portal, LUCI for Australia's superannuation industry, and corporates looking to make analytics more personalised and insightful.
With an existing 2.5 year career with Laneway Analytics, Janice Tam has been promoted from Analytics Solutions Engineer to Head of Analytics. This key new role will see Janice expand her daily responsibilities from data modelling and visualisation engineering activities towards advancements in Laneway's data analytic services. Plans are underway to continue to automate the workflow of data and construct a more useful data visualisation model for super fund clients and their staff, regardless of job title or familiarity with data analytics. Janice will also be responsible for client delivery, quality control and roadmap for how data analytics technology development at Laneway can further improve client outcomes. Janice has previously worked for Deloitte, Telstra and holds a Master of Information Systems Degree from University of Melbourne.
Harsha Vardhan Jarugu joins Laneway Analytics as an Analytics Solutions Engineer from his recent roles at Catch.com.au and Wipro. With experience in big data challenges, his primary responsibilities for Laneway include developing, building and implementing advanced data analytics solutions for clients to improve business performance. Harsha will also contribute to the development of analytics portal, LUCI – from developing the dashboard and machine learning algorithms, managing data analytics and modelling to software development and customer training. Harsha holds a Master of Data Science Degree from Monash University.