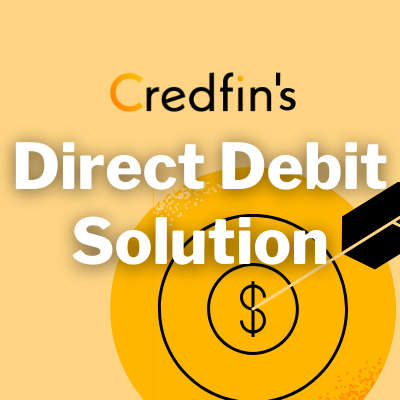 Insights into Direct Debit Solutions
Within their payment products, Credfin offers partners Direct Debit solutions. This solution provides lenders with the options to set their own timing, amount and frequency on customer's loan repayments as well as checking the bank balance before processing a payment.
Why use Direct Debit
Not only is Direct Debit an easy and efficient way of processing customers payments, it is also cost effective and accessible. In terms of cost, a Direct Debit fee for Credfin is significantly lower than a card payment fee. For example, while a payment of $100 would cost around $2.05 to process via card payments, it would cost around $1.00 through Direct Debit. This fee is dependent on the volume Credfin is processing, as the system is tier based. As 19.8 million people in Australia have a bank account, Direct Debit is widely accessible. All of these factors boil down to Direct Debit being the preferred method of payment.

The Credfin Advantage:
Express Settlement
Credfin offers partners an express settlement solution. Some banks' facilities may take up to 4 days to settle funds, with funds arriving around 1pm. Credfin's express settlement will settle the funds within 2 days by 6am. The convenience of quick settlement is made possible by the NPP. The New Payments Platform (NPP) is a platform with the ability to initiate fast payments through open-access infrastructure. Planning to be rolled out by mid-2022, NPP will be integrating PayTo, a service that will fast rail payment systems for real time settlement. Access to instant funds to relend instead of being tied up for up to 2 days will be a game changer. This will also assist the customer, as the credit provider is able to contact the customer immediately if a payment declines.
Automation
As this solution is fully automated, Credfin's focus is drawn from administration tasks to more important aspects of the business. The automation includes payments as well as reconciliation. Flexible payment terms Credfin's Direct Debit solution has flexible payment terms, allowing fixed and variable amounts. This means that any change in fees, frequency and date are handled with reliability and ease. All the lender must do is notify the customer of the change. After the lender notifies the customer of the change, Credfin is able to drive these changes using their powerful API.
Reduce Payment Failures
Through Credfin's powerful API, they are able to perform an account balance check on the customer before presenting a payment. The account balance check feature considers the current and actual balance of the account, as there is a possibility the current could be lower than the available depending on pending transactions. If Credin finds that the customer has insufficient funds, they are able to avoid debiting the customer, resulting in less overdraft fees and payment failures. Credfin is a global award-winning financial service, providing digital lenders with leading technology and metrics to enhance user experience. This Direct Debit solution is just one of the many products Credfin offers to their customers. Check out Credfin's website for more product information or to sign up your business.