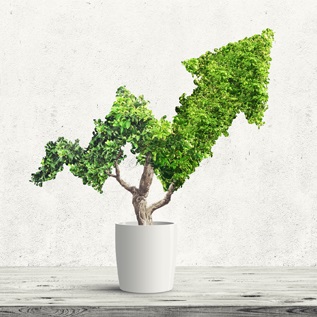 Going 'green' pays off for Six Park
Online investment manager Six Park has released its first range of sustainable portfolios to allow investors to choose more sustainable investments without sacrificing low costs or diversification – and with it comes a new partnership with Melbourne-based Summerhill Financial Services.
Since launching the sustainable portfolios to existing clients and subscribers in late 2020, about one in three new clients have chosen the sustainable option.
It was also a key factor in Summerhill's decision to partner with Six Park for their online investment offering, as advisers are ethically required to consider clients' attitudes toward responsible investing.
Sustainable investing is going to be important to more and more people over time and therefore will be of growing importance to savvy financial planners and accountants looking to partner with digital providers, said Six Park co-CEO Pat Garrett.
"Research shows this is the way the industry is heading – in the ASX 2020 Investor Study we saw that interest in ESG investing was a priority for the next generation of investors, and these investors are the future clients of Australian financial planners and accountants," Mr Garrett said.
"We're excited to be partnering with Summerhill, which is a future-led practice that understands the importance of both digital engagement and sustainable investment as part of their business strategy."
Caroline Bell, Founder of Summerhill Financial Services, which started a digital advice offering last year, said she was excited to now be partnering with Six Park as they ramp up their digital offerings.
"Sustainable portfolios were an important factor in our decision to partner with Six Park, as this is an area of considerable importance to ensure we can provide clients with services that align with their attitudes toward responsible investing," Ms Bell said.
"We plan to move further into the digital space to help fill the advice gap with affordable and accessible financial advice options.
"We've seen the importance of this particularly during 2020, when people needed access to financial advice and investment assistance without always knowing where to start.
"Many people want to build wealth but don't necessarily need financial strategy advice. The goal of our online investment advice solution is to provide these people a low-cost professional solution that gives them control over their money and transparency over both investments and fees.
"We also believe that knowing that there are real people behind the solution is important, and so we offer free online chats to answer any queries before investing.  We have also listened to our clients and know that increasing their financial knowledge and confidence is important, and so have established an online education community that is available to the public, with a private section for our clients, in which we will include webinars, guest interviews, provide updates and answer general questions."
Ms Bell believes that offering a low-cost online investment advice and management is an important part of the future direction of the business, combined with financial strategy advice for people who need or want ongoing personal advice. "Although most people can buy an ETF themselves, they may still need support with initial portfolio construction and getting the investment mix right, rebalancing and simplifying tax management. And, as sustainable options become more available, a thoughtful approach to choosing the right sustainability-oriented ETFs will be important too. That is where we can help," Ms Bell says.
Six Park's new portfolios use sustainability-oriented ETFs for exposure to Australian and international equities (both hedged and unhedged). They also omit exposure to emerging markets, as this is an asset class that is more likely to include companies with practices that are at odds with sustainable philosophies.
"We've reviewed the sustainable ETFs currently available on the Australian Stock Exchange, and we've carefully considered their relative benefits and drawbacks. There's a growing number of sustainable ETFs but they vary widely in the way they've been constructed, so Six Park's Investment Advisory Committee spent considerable time examining the available options as part of their decision-making process," Mr Garrett said.
For more information on Six Park sustainable portfolios, please visit: www.sixpark.com.au/sustainable-investing