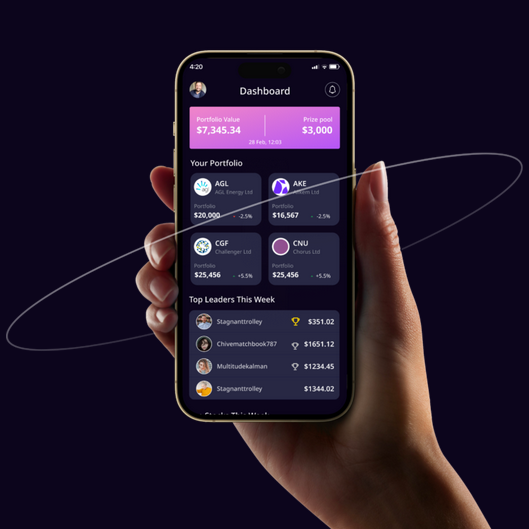 FinTip: Gaming meets Education for the ASX Share Market
FinTip, an Australian startup, launched their Apple and Android mobile app today with their first ASX fantasy share market competition kicking off today (17 July 2023).
Their mission is to educate and engage adult Australians at different knowledge-levels on the world of investing and finance through curated content and gamification.
FinTip offers a subscription-based model for less than the price of a take away coffee per week for access to news and curated content and insights on investing within their platform. The first 4 weeks will be offered free for subscribers to promote and encourage users to test and learn the app.
The target users are anyone over the age of 18 who has an interest in learning about investing and trading, but does not necessarily want to risk losing real money on the stock market. Each week, players can select four ASX stocks to create a $100,000 virtual portfolio and track their performance, along with all other players for the week. A nominal prize is offered to the top 5 positions as a reward.
Speaking about the launch, FinTip Founder, Luke Riboldi said, "We have a real problem and gap in the current financial system. There is no mass-market way for Australian's to play around, test, learn and apply their investing and trading skills in a safe, sandboxed environment. This leads to a problem of gambling, guessing and unnecessary losses of people's hard-earned savings."
"We know the ASX runs infrequent competitions during the year and platforms like HotCopper have paper competitions with social media, but nothing exists that addresses the core issue of education plus practice, which we know are the foundations for true learning."
"The financial world is super complex, people are time poor, the news and information is saturated and not necessarily reliable. We need to consolidate the essential features towards helping people achieve financial freedom. No one would argue that education and practice play an important role here."
"We know lack of engagement is a real issue when it comes to household finances and investment. That's why we've added in the gamification element into FinTip – to keep people involved and learn from others in a scalable and affordable way."
The complexity goes beyond the ASX share market. Assuming the model works, FinTip will look to expand the education and gaming elements to overseas markets, crypto, plus other features which they're keeping under wraps. "We've got an exciting pipeline and roadmap ahead for sure and I'd like to say this is just the beginning," Riboldi added.
The ASX recently released their ASX Investor Study 2023 – there are over 10 million Australian's that invest and 8 million who have never invested at all. Among the top reasons why people don't invest include not believing they have enough to invest, not confident to make decisions and don't know which investments to start with.
"FinTip is on a journey. One that we will travel on with our users, together. We have bootstrapped this business ourselves to help others and believe it's a problem worth solving. We are answerable to our customers and the community at large and our future will be shaped based on user feedback. That's the culture, mission and direction we will take," Riboldi concluded.