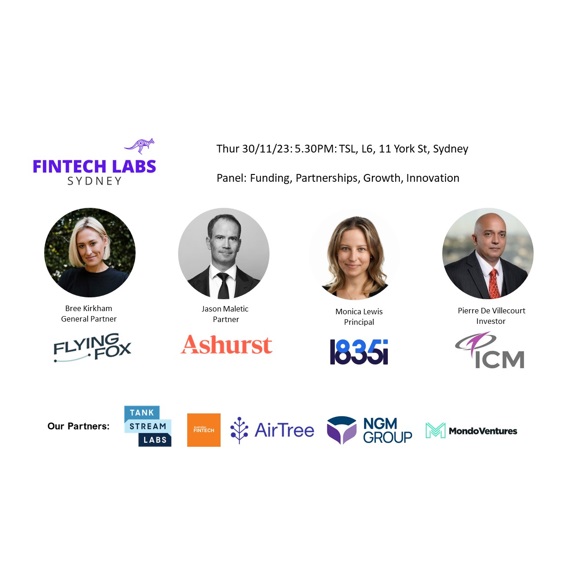 FinTech Labs to Turbocharge Funding Eco-System
Glen Frost, Producer and Organiser of the FinTech Awards and the FinTech Summit, has launched a new event to ensure fintechs can access the advice and funding they need to launch and scaleup.
The initial 'test' event in September was a huge success with standing room only. Now that the format has been tested and partners secured, FinTech Labs will be rolled out on a regular basis.
Partners for FinTech Labs are: Tank Stream Labs, Australian FinTech, AirTree, 1835i, Mondo Ventures, NGM Group (the merged entity of Greater Sydney Bank and Newcastle Permanent Building Society).
"We are delighted by the initial support of all our partners, all of whom bring great value to Founders and FinTechs," said Frost, adding: "we encourage other VCs and supporters to attend; the networking after the panel session is a key part of every FinTech Labs event."
"I'd like to especially thanks Tank Stream Labs, Brad Delamare and the events team for their support and partnership on this event; their support means we can make this a free event," said Frost.
In addition, two fintech startups looking to raise a seed or A round will be given the opportunity to pitch to the room (short 3 minute pitch without slides). Added Frost: "We know that every Founder and every team is interested in funding, and we want to create a forum where founders can meet investors and VCs. If you're 'investor ready' please contact me!"
The next event is as follows:
Date: Thursday 30th November (5.30-8.15pm)
Venue: Tank Stream Labs, Level 6, 11 York Street, Sydney
Panel Topic: funding, scaling, growth, innovation, partnerships
Pierre De Villecourt, FinTech Investor, ICM/FinTech Fund
Jason Maletic, Partner, Ashurst
Bree Kirkham, General Partner, Flying Fox
Monica Lewis, Principal, Ventures, 1835i