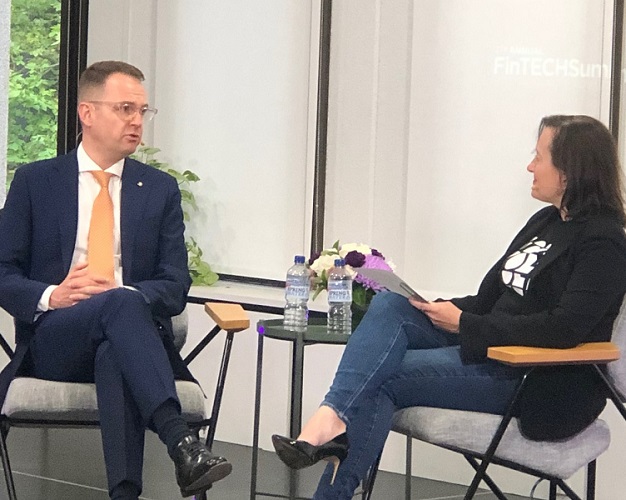 FinTech-Bank collaboration is FinTech's best bet, says Frost
Photo: Senator Andrew Bragg being interviewed by Lynda Coker, Commercial Director, Volt Bank, for the 7th Annual FinTech Summit.
"It's almost impossible to agree a consensus within the fintech community, but what we can say is that the big, powerhouse deals are represent two key trends – banks partnering with consumer facing fintechs – with examples such as Slyp and NAB, Afterpay and Westpac, and then Banks partnering with 'back end' fintechs, such as Westpac and 10x for the delivery of Banking as a Service core banking platform," said Glen Frost, creator of the 7th Annual FinTech Summit.
"Open Banking and CDR is a great opportunity, but will take time to come to fruition as costs are high, and fintechs can only use the data reading function, and will have to wait for the 'writing function' – that is, the ability to initiate payments – which is key to offering the big tickets products like loans and mortgages without a customer switching their bank account," added Frost.
"What is heartening is that the FinTech sector has a supportive Federal Government, with Senator Andrew Bragg forcefully supporting the sector's right to launch innovative services, and ensuring the regulatory bodies stick to regulating. The FinTech sector is very lucky to have Senator Bragg and Senator Hume as knowledgeable champions of fintech in Government," added Frost.
"Whilst the wave of venture capital has flooded the private pre-IPO markets, more can and should be done to encourage investment in the Angel and Seed stages, and I think this will be the next policy area to be addressed by Government," commented Frost.
"There are many truly amazing fintech firms helping consumers make better use of their money, and amazing fintechs helping banks manage their customers better – including one Ai based fintech who say they can predict when a customer is going to switch homeloans three months before they do – now that's amazing! And you'll see it at the FinTech Summit, so register now," encouraged Frost.
The conference is for Fintech and FSI leaders that want to learn about the latest innovations in fintech and hear from companies that are shaping the future of finance.  The Fintech Summit is a free virtual conference, in partnership with Amazon Web Services.
3 Key Themes for This Year's Event
How Open Banking and The Consumer Data Right is changing finance
The Rise of Fintech / FSI collaboration
How Technology and Capital are reshaping finance
Join the 7th Annual Fintech Summit on 23rd – 25th March to hear from Fintech Founders, CEOs, Investors and Ecosystem Experts.
Attend the 7th Annual FinTech Summit 2021 – online and FREE.
REGISTER HERE: www.fintechsummit.com.au