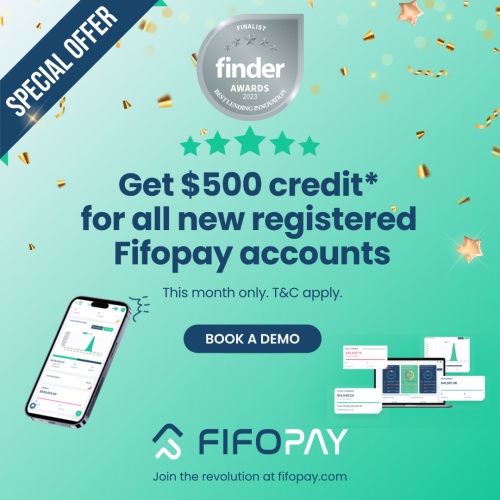 Fifopay: Finalist in the Finder Innovation Awards 2023
Fifo Capital, a leading innovator in SME financial solutions, has announced that its cutting-edge cash flow management platform, Fifopay is a finalist in the prestigious Finder Innovation Awards 2023. This nomination is a resounding endorsement of Fifopay's dedication to transforming SME finance and empowering businesses to take control of their cash flow, enhance profitability, and secure a more prosperous future.
The Finder Innovation Awards, renowned for recognising excellence in the finance and technology sectors, have acknowledged Fifopay's commitment to driving innovation and offering groundbreaking financial solutions for small and medium-sized enterprises (SMEs). This recognition underscores the significance of Fifopay's contribution to the financial landscape in Australia.
Fifopay: A Pioneer in SME Finance
Fifopay takes pride in its mission to revolutionise SME finance. With a dedicated focus on SMEs, Fifopay has dedicated its efforts to providing tailored support that meets the unique needs of these businesses. Wayne Morris, CEO of Fifo Capital, said, "In a business landscape where 98% of enterprises are SMEs, it's essential to acknowledge that these businesses often operate in a system that predominantly caters to the remaining 2%. At Fifo Capital, we are dedicated to rectifying this imbalance, rewriting the narrative, and ensuring that SMEs receive the support and opportunities they truly deserve."
By offering SMEs their very own digital CFO and empowering them with cash-on-demand finance solutions, Fifopay enables businesses to improve profitability, take control of their cash flow, and secure a more prosperous future.
Celebrating Innovation and Impact
The nomination for the Finder Innovation Awards serves as a testament to Fifopay's unwavering commitment to innovation and its relentless pursuit of financial solutions that drive positive change for SMEs. The company is honoured to be recognised alongside other notable names in the finance and technology sectors.
A Special Offer for SMEs
To celebrate this achievement, Fifopay is offering a limited-time promotion for SMEs. Throughout this month, businesses can visit the Fifopay website to schedule a free demo. By signing up this month, they can take advantage of this exclusive promotion to experience the benefits of having their very own digital CFO.