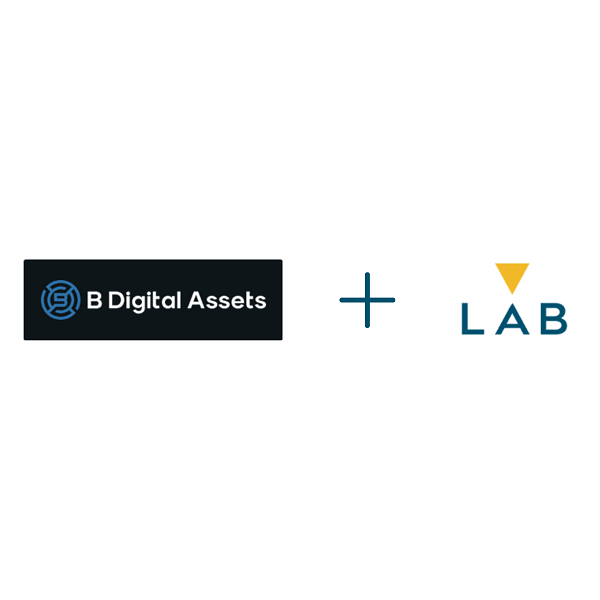 Emerging fintech LAB Group partners with crypto asset manager B Digital to streamline new client onboarding
Australia's most connected account opening platform provider, LAB Group, announce that it has partnered with Australian financial services firm B Digital to enhance B Digital's client onboarding experience.
B Digital Assets is a Sydney-based investment manager for wholesale investors. The group invests in transformative technologies linked to crypto assets, including decentralised finance (DeFi), the metaverse and non-fungible tokens (NFTs). Founded in 2021 by an experienced team, B Digital invests across the spectrum from seed and early-stage to listed projects.
B Digital has now successfully deployed LAB Group's white labelled client onboarding solution, LABform. This platform empowers B Digital to accelerate investor registration and enable electronic identity verification for individuals, companies, Self-Managed Super Funds (SMSFs) and trusts. The LAB Group process harnesses multiple Australian government and other verified databases and is supported by dynamic online forms, multi-party digital signing and document upload facilities.
LAB Group's technology is standardised to seamlessly integrate into a wide range of customer relationship management (CRM) systems and industry registry platforms. It also satisfies the Australian government's Anti-Money Laundering (AML) and Know Your Customer (KYC) regulatory requirements.
Nick Boudrie, CEO, and Co-Founder of LAB Group said, "We're excited to partner with B Digital and look forward to supporting its growth aspirations as the group invests in the future that blockchain technology enables. This deployment marks a milestone for Lab Group, with B Digital representing our first dedicated digital asset management client, following LAB Group's sponsorship of the inaugural 'Best Crypto or Digital Asset Platform/Product' award at the 6th Annual FinTech Awards in December 2021.
"As regulatory oversight of the crypto and digital asset markets continues to mature, LAB Group's compliance expertise and scalable, standardised financial services onboarding platform will deliver mutual benefits to investors in and managers of digital assets.
"We look forward to deepening our relationship with B Digital and extending our reach into the crypto sector as we deliver further integrations and innovations which will allow digital asset managers to enhance their clients' experience."
B Digital Assets Co-Founder and CEO, Gavin Ezekowitz, said, "At B Digital Assets, we aim to provide investors with client-focused digital asset advisory which leverages our deep understanding, experience and commitment to crypto and digital assets. We are excited to link wholesale investors to opportunities in this market and do so in a seamless and compliant manner. To that end, we're excited to deploy LAB Group's technology, which has already demonstrated value through our new client onboarding process. LAB Group's platform delivers us a best-of-breed service in terms of data security and compliance with KYC and AML obligations.
"With this appointment, B Digital Assets is furthering our commitment to delivering best-in-class technology and support to our clients. The industry need for more consistent regulation has become increasingly acute, and we are confident this technology that allows us to integrate, expedite and automate the onboarding process will enhance the experience for our new and existing clients."