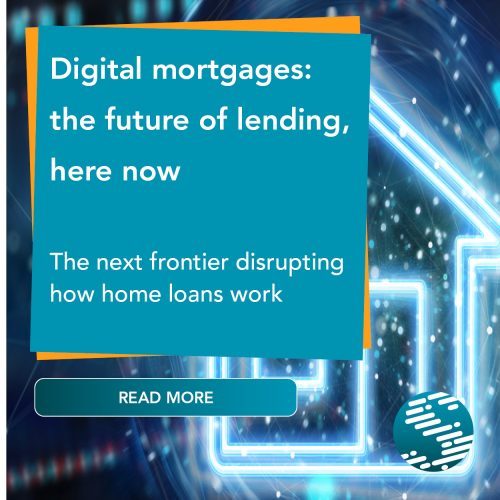 Digital mortgages: the future of lending, here now
Sandstone Technology's Chief Customer Officer, Ross Watts, explains why digital mortgages are no longer a desirable future state: they're available now and becoming an essential tool in a bank's digital offering.
For years, banks and other lenders have been describing their home loans as digital. But often that's wishful thinking. What sits behind the scenes may be far from a true digital solution.
As Ross Watts explains, a true digital mortgage solution allows customers to complete every stage of their home loan application all the way to approval – on their mobile phone or using internet banking. It's anytime-anywhere functionality, from verifying their identity and providing their banking documents, right through to giving consent for data to be drawn from existing records or through open banking.
It's paperless, fully automated, and fast – in some cases, giving approval in as little as 10 minutes. A digital mortgage is straight-through, real-time processing in action and a major step forward in home loans.
It's not for all customers – yet
In principle, all loans could be processed through a digital mortgage, or a digital-only home loan (we use the two terms interchangeably). But in reality, digital mortgages are not a one-size-fits-all solution, Watt says. The risk profile of most banks prevents many deals from being digitally processed: approval requires some level of human oversight.
Today, most digital mortgages are offered to low-risk customers who have a lot of equity – LTV of 70 to 80 percent – or a high deposit.
"They're often a PAYG employee with a high disposable income," says Watts.
With this kind of lending – simple decisions based on easy-to-understand financial positions – banks are very comfortable leaving the decision making to technology. Of course, many customers, especially self-employed owners of small or medium businesses (SMBs), don't fit the mould. Their financial scenarios are complex.
These SMBs and other customers who don't fall with the 'rules' of the digital mortgage will be filtered out one of two ways. Either the lender warns the customer from the outset that there's a hard credit score at the end of the application process, based on a list of parameters, or they don't initially block the customer, but instead use technology to insert a barrier at an appropriate point before they get to the credit score stage. As soon as the technology detects that complexity issue, the loan won't progress any further. Ideally, Watts says, the customer is then diverted to a contact centre or a home loan specialist who will capture additional information to ensure the deal meets the bank's risk appetite.
To take the Rocket approach…or not
Which of the two above-mentioned approaches a bank adopts will depend on whether they're using the process to drive a higher volume of home loan applications across the board, or whether they're only targeting a certain type of customer.
US-based Rocket Mortgage by Quicken Loans is an example of a lender using technology to identify and assess their customers. Rocket pioneered the bold approach of providing a hard credit check within the process to give conditional approval.
"Rocket is recognised globally as the pioneer of the digital mortgage," Watts says. "It's been the number one US primary mortgage originator for 11 years and is easily the most loved lender based on customer satisfaction." Not surprising given the entire process is online and approval can arrive within eight minutes.
Always "streets ahead of the competition" according to Watts, the Rocket app has managed to solve the challenge of customers who don't meet straight-through processing requirements by providing other channels of engagement. As an example, Rocket Mortgages provides customers with a 24/7 no wait self-service option. This utilises Interactive Voice Response (IVR) to help the caller gather further information or take certain actions over the phone.
Avoiding a bad customer experience
Watts believes the biggest risk for banks offering digital mortgages is frustrating customers who are turned away, and freezing out existing customers in favour of driving new home loan customers. "This is where some of the biggest complexities of the digital mortgage arise," he says.
Newer banks don't have that back book to worry about. They've traditionally looked at digital mortgages as a way of accelerating their arrival into market and quickly capturing customers with the desired risk profile. Even for more traditional tier 1 and 2 banks with large back books, there is opportunity to create new digital-only mortgage channels focused on specific customer use cases – usually those simple home loans that are both low risk and high in equity.
Once the customer has been through an online scenario analysis or serviceability calculator, the technology needs to be able to identify if the customer can genuinely meet requirements at each checkpoint. And if they can't, the bank would ideally use technology to skillfully triage them into a contact center or similar – without asking them to rekey information or repeat themselves.
Customer satisfaction ultimately depends on how well the institution has integrated the digital mortgage channel into their overall strategy.