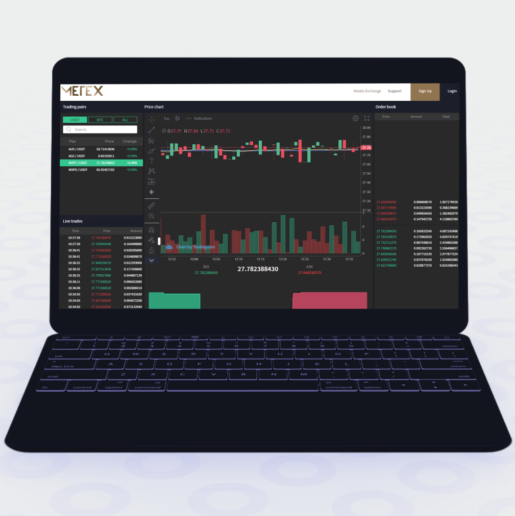 Crypto friendly metals exchange offers access to precious metal trading pairs
You've been hearing about it for months, demand for precious metals like gold and silver is through the roof as investors seek to hedge and rebalance their financial position. Some are adding crypto to their portfolio, but many are asking themselves the more traditional question… what percentage should be kept in gold & silver?

This motivation to diversify into precious metals has meant that Bullion dealers are rushed off their feet with many running out of stock, and only able to offer delayed delivery options. But if the objective is to quickly gain exposure to precious metals in a secure way, ie full reserve and not paper contracts, then there are several blockchain projects who have tokenized metals already, effectively meeting this objective. The question then is, who should you trust and where can you purchase?

Metex Exchange is a new crypto friendly metals exchange, and they've made it easier than ever to trade crypto for precious metals. Simply deposit USDT or Bitcoin to the exchange and you'll immediately be able to trade into gold, silver platinum or even palladium all without completing pages of paperwork or stressing about logistics or insurance options.

The gold and silver tokens traded on the Metex Exchange are issued by Ainslie Wealth, based in Brisbane Australia. Ainslie Wealth is a tech savvy bullion & wealth management company who have paired blockchain technology with their 45 years of experience. Their flagship tokens are Gold Standard (AUS) and Silver Standard (AGS) and are both issued on the ethereum network, always with a 1 to 1 issuance. Each token represents 1 gram of bullion, which is safely accounted for in the Reverse Vault in Brisbane. Users of the Metex Exchange can now enjoy access to these tokens, with both Bitcoin and USD Tether trading pairs available. Whether it's to trade or to simply diversify and hold, Metex Exchange makes it easy to trade crypto for precious metals.

The introduction of tokenized metals isn't without its sceptics, as trust is hard to build when you don't physically hold the metal. The re-assuring news for many is that the gold and silver tokens offered on Metex Exchange are not just restricted to their digital form. Ainslie Wealth offers a physical redemption process whereby Gold Standard or Silver Standard tokens can be exchanged for delivery of physical bullion. One could argue that precious metals have now evolved into the digital age, whilst still ensuring physical access is available at key stages (audits & redemption etc).
To read more, please click on the link below…
Source: Crypto Friendly Metals Exchange Offers Access to Precious Metal Trading Pairs | Metex