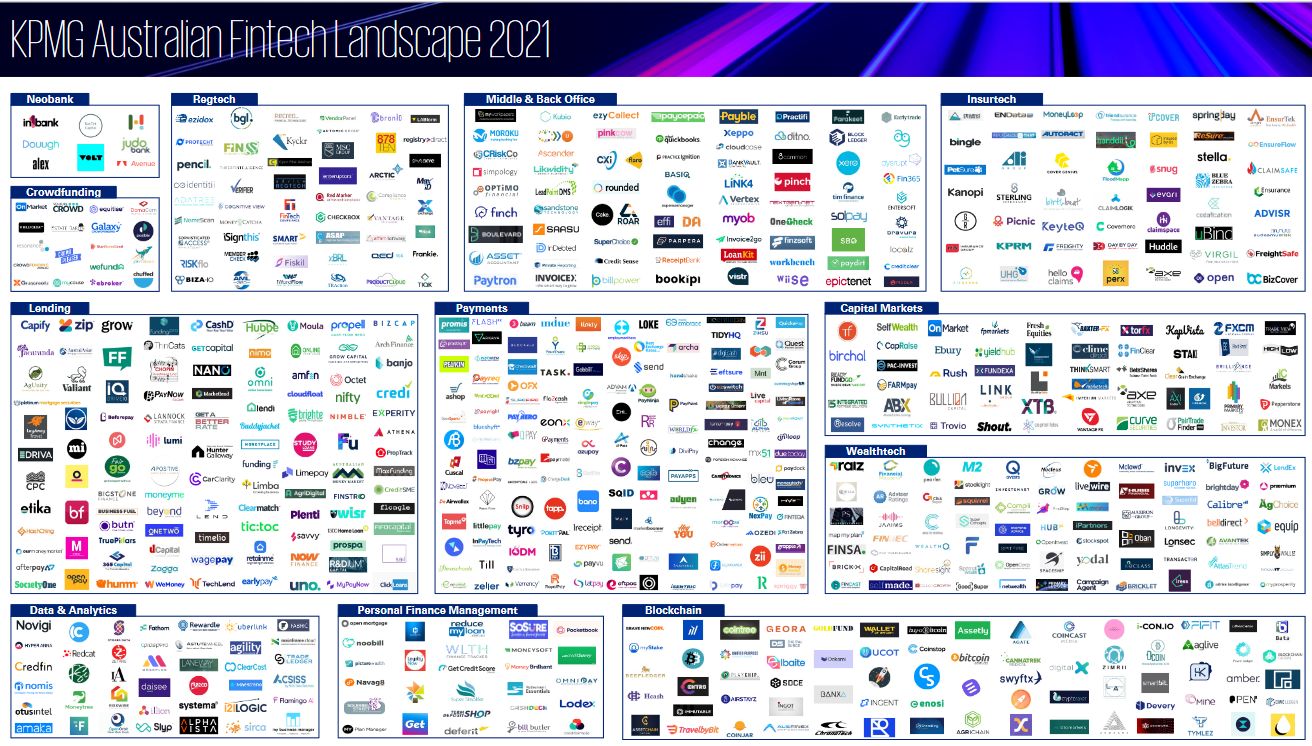 Corporate M&A activity buoys Australian fintech sector: KPMG Australian Fintech Landscape 2021
The past year has been one of excitement for Australia's fintech eco-system, which saw a significant level of M&A activity from incumbent local and offshore financial services providers. This excitement and validation for larger players in the ecosystem has driven the continued investment in the space, which saw strong support for the local fintech sector across a broad range of categories.
The KPMG Australian Fintech Landscape 2021, which captures the breadth and depth of independent fintechs active and headquartered in Australia, provides a snapshot of the innovation taking place across the financial services technology sector. It shows a total of 718 currently active fintechs, up from 701 when the landscape was last released in December 2020.
Daniel Teper, National Fintech Lead, KPMG Australia commented, "The Australian fintech sector has grown up in 2021. Whilst we continue to see early stage opportunities in the overall ecosystem, it's at the big end of town that things really stepped up – this year we've seen record levels of corporate investment in the space, with transactions including NAB's acquisition of 86 400, Latitude's acquisition of Symple Loans and of course, the expected acquisiton of Afterpay by the US headquartered Square due to complete later this year. To put this in perspective, the Afterpay transaction would represent the largest ever takeover in Australian history, and has put Australian fintech firmly on the global map."
Key insights from the KPMG Australian Fintech Landscape 2021 include:
The number of fintechs solving middle and back office problems increased by more than 20%, driven by the increasing demand for automation and integration from incumbents and innovators alike
Lending continues to be a hot category, with the number of fintechs in the space up by over 10% led by successful operators in the consumer lending, mortgage and buy-now-pay-later sectors, and supported by low interest rates and availability of investor funding
The Neobank sector continues to evolve – 2021 saw the acquisition of two of Australia's founding neobank players (86 400 and Up), whilst challengers continue to progress with the granting of new banking licences (Alex Bank and Avenue Bank)
Payments remains an active sector, with 15 new fintechs added to the landscape, although this was counterbalanced by acquisitions and a number of fintechs in the category that ceased trading
Blockchain and Crypto Currency continues to evolve as market participants jockey to understand what the future structure of the category looks like
KPMG Australian Fintech Landscape 2021
Categories

2021

2020
(adjusted)

Change
(#)

Change
(%)

Blockchain and Crypto Currency

72

81

(9)

(11.1%)

Capital Markets

53

53

–

–

Crowdfunding

18

20

(2)

(10.0%)

Data and Analytics

40

39

+1

+2.6%

Insurtech

51

55

(4)

(7.3%)

Lending

107

97

+10

+10.3%

Middle & Back Office

75

62

+13

+21.0%

Neobank

8

10

(2)

(20.0%)

Payments

141

140

+1

+0.7%

Personal Finance Management

27

26

+1

+3.8%

Regtech

51

47

+4

+8.5%

Wealthtech

75

71

+4

+5.6%

Total

718

701

+17

+2.4%
Dan Teper added, "This year we have seen record levels of M&A activity involving larger financial institutions and strategic investors. Corporate participation has in part been driven by a response to the permanent shift in customer behaviours and preferences towards digital, as well as the need for traditional players to accelerate their own digital transformation agendas. It is also the clearest sign yet that parts of the ecosystem are starting to mature and gain relevance in the market, and that the incumbent financial services players are therefore having to take notice of the space."
"This activity has further validated the working thesis of many founders and investors – that successful fintechs can quickly scale and be genuine challengers to incumbent providers – and we expect that this will act as a catalyst for further innovation and investment in the sector across a broad range of categories as fintech continues to become a more mainstream and credible sector," he added.
To view the full KPMG Fintech Landscape go here.