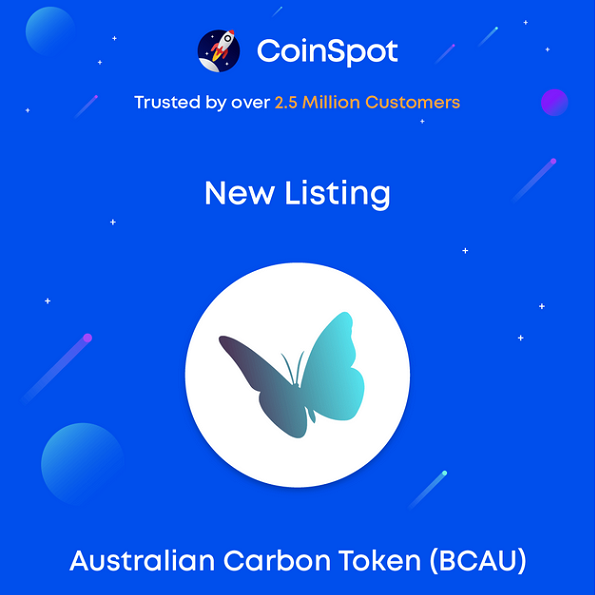 CoinSpot lists the Australian Carbon Token, enabling customers to invest in carbon credits
CoinSpot, Australia's leading digital currency exchange, has announced the listing of the Australian Carbon Token (BCAU) on its platform, offering customers the opportunity to invest in the emerging asset class of carbon credits. The Australian Carbon Token is notionally backed by the value of Australian Carbon Credit Units (ACCUs), which represent 1,000kg of carbon dioxide emissions reductions. The BCAU represents 1 kg of Carbon per token.
"CoinSpot is proud to support another homegrown Australian company like BetaCarbon, which is focused on making the Australian carbon market more accessible to everyday Australians and businesses," said Tim Wilks, Chief Business Development Officer at CoinSpot. "By listing the Australian Carbon Token on our platform, we're providing customers with a streamlined avenue for access to a generationally important asset class."
The Australian Carbon Token has been created by BetaCarbon, a company focused on making the Australian carbon market more accessible. Australian Carbon Credits are issued by the Australian Government's Clean Energy Regulator when green energy projects capture or reduce emissions. Betacarbon was founded by Guy Dickinson who was previously the Treasurer and Head of Markets and Securities Services at HSBC Australia & New Zealand.
By tokenising Australian Carbon Credit Units on the blockchain, BetaCarbon is enabling investors to access smaller representative portions of ACCUs. ACCU's were previously only accessible to a small group of industry players within a high barrier to entry market environment.
"The Australian carbon market is maturing quickly as the federal government and the corporate sector alike ratchet up their commitments to decarbonisation," said Guy Dickinson, CEO of BetaCarbon. "The more demand for carbon credits, the higher the need for new green projects for businesses to offset."
Investing in the BetaCarbon token on CoinSpot allows investors to drive a price signal for carbon credits with the potential to result in increased carbon reduction and carbon drawdown of funded projects.