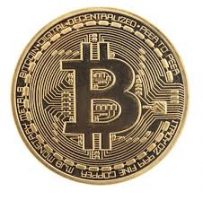 Bitcoin worth more than gold as price reaches all-time high
The crypto currency known for its anonymity and decentralised nature reached an all-time high on Friday afternoon, making it more valuable than gold in Australia.

Bitcoin was trading above $1634 on bitcoin.com.au, as gold hovered around $1620 an ounce.

The currency has been surprisingly steady this year, remaining above the arbitrary $US1000 mark ($1297) for its longest ever stretch, according to researcher CoinDesk.

Industry heads point to the nearing deadline of a decision by Securities Exchange Commission in the US to introduce the first of three bitcoin exchange-traded funds (ETF).

"There is a lot of excitement that the Winklevoss twins' ETF is coming close to approval," says Asher Tan, CEO at bitcoin exchange and platform CoinJar. "But there are more regulatory hurdles to get through."

Approval of the fund would mean easier access for traders, potentially unleashing a flood of trade.

"The market is signalling for more wholesale and institutional investment," Mr Tan continues. "Wallets and exchanges are better understood, and the availability of services makes it a lot more attractive to new investors. The ecosystem has matured."

However, he warns that volatility is inevitable with the price rising so quickly.

"Regulation is looking positive in most countries," says Rupert Hackett, general manager of bitcoin.com.au exchange, citing Japan, the Philippines and China all showing positive signs of accepting the new technology.

"It's a big shift. Once bitcoin is regulated, it means it is safe, legitimate, and should be considered as a potential investment."

He also conservatively sees bitcoin reaching a price of $US2000 by the end of the year.
To read more, please click on the link below…
Source: Bitcoin worth more than gold as price reaches all-time high – The Sydney Morning Herald