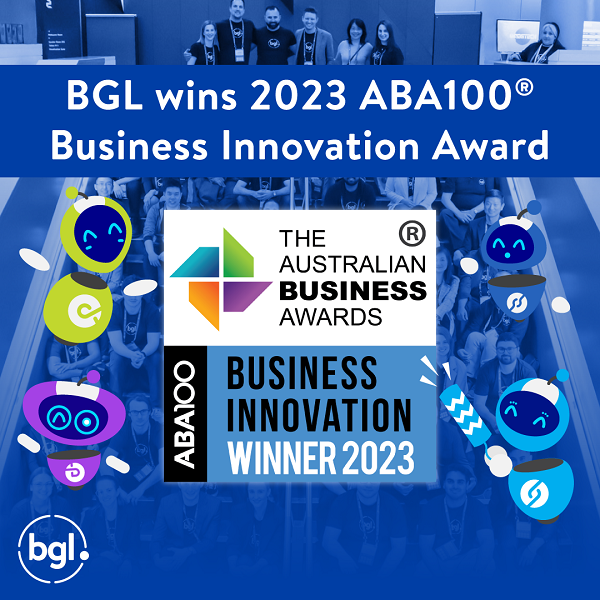 BGL wins 2023 ABA100 Business Innovation Award
BGL Corporate Solutions has been recognised as an ABA100® Winner for Business Innovation in the Australian Business Awards 2023 for its AI-powered paper-to-data solution, BGL SmartDocs 360.
The Australian Business Awards are an annual comprehensive awards program that recognises organisations demonstrating the core values of business innovation, product innovation, technological achievement and employee engagement via established business and product award categories.
"This is a truly remarkable achievement and a testament to the extraordinary efforts and dedication of our product development teams," said BGL's Managing Director Ron Lesh. "I couldn't be prouder of their hard work developing our unique, innovative paper-to-data solution."
BGL SmartDocs 360 is a multi-award winning, AI-powered paper-to-data solution that helps businesses unlock their full potential by transforming paper documents into smart digital data.
The solution provides both Retail and Developer versions (currently in beta), meaning it can be integrated into any software solution or used by any business to convert paper into data.
"Unlike other solutions that require the creation of templates for each document layout, BGL SmartDocs 360 learns from documents submitted through its unique training engine," added Lesh. "Once BGL SmartDocs 360 has learned the document type (it takes approximately 10 documents of the same type), it will permanently process the document type even if the layout of the document changes. The document can be either a PDF or an image."
As a flagship product, BGL SmartDocs 360 positions BGL to expand its global reach by delivering a paper-to-data solution to organisations across the globe and industries seeking to streamline operations and improve efficiency.