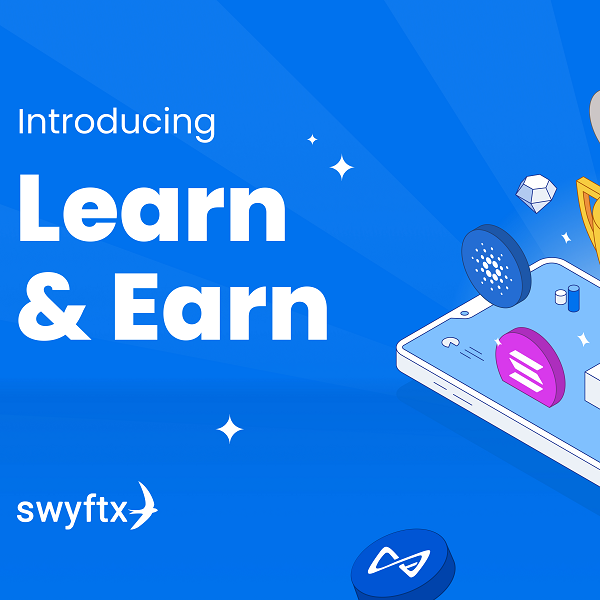 Aussies to be rewarded to understand crypto market and better recognise scams
Swyftx has unveiled a new platform that will reward Aussie cryptocurrency users for better understanding the digital assets market.
The Australian cryptocurrency broker launched a 'Learn and Earn' course this week following a surge in demand among local investors for educational resources on cryptocurrency. Nearly two million unique users have visited the existing Swyftx Learn platform since its launch in 2022.
Brisbane-based Swyftx becomes the first Australian exchange to launch a Learn and Earn platform and one of the only exchanges in the world to incentivise education on market fundamentals.
Tom Matthews, Head of Corporate Affairs at Swyftx, said the aim was to provide more educational resources on crypto and information on how to avoid risks such as scam tokens.
"We've seen a surge in demand for education on blockchain tech over the last year, largely driven by the high level of grassroots crypto adoption we've got in Australia," he said.
"A lot of Aussies see digital assets as the future of online finance and they understand the significant opportunities that the technology presents in areas like tokenisation and payments. But the novelty and complexity of the crypto market also creates risk.
"We believe the industry should provide digital asset users with access to serious educational resources that can help them understand the market. This includes the ability to better differentiate projects that could make a genuine difference to our society from those that won't or, worst case scenario, could be scam tokens."
The first course on fundamental analysis includes modules on crypto asset utility and tokenomics. Australian investor education and research platform, Investified, provided expertise for the course.
Investified Co-Founder Zac Povolny said, "With thousands of digital asset opportunities to invest in, it's important to have the skillset and education to cut through and identify assets with real utility and staying power. Many lack the fundamentals necessary for a sustainable project.
"From our perspective, the industry bears the responsibility of helping equip local digital asset users with the knowledge to make informed investment decisions. Our advice to clients, whether they're investing in equities or digital assets, is always to take time to understand where they are placing their hard-earned money. The time spent researching will provide investors with the emotional control and confidence required to make smart decisions."
The first 4,000 people to successfully complete the fundamental analysis course will receive a $5 payment of Bitcoin by way of recognition.
In total, AUD $100k in rewards are expected to be paid out over the next 12 months, with new courses added weekly/monthly on topics that will include long term investment strategies and scam prevention.