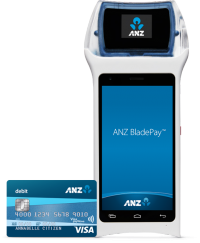 ANZ Strikes Again: After Apple Pay comes BladePay
The ANZ Bank, fresh from establishing itself as a satisfied customer of Apple for its Apple Pay digital wallet system for consumers, has now launched BladePay, an Android-based mobile payments solution for Australian businesses.

It describes BladePay as a handheld payment device which is capable of running third-party applications and uses the Android 6.0 Marshmallow operating system.

It features a 5-inch display, an 8-megapixel rear-facing camera, and a 2-megapixel front-facing camera, along with a 1/2D barcode scanner. Wi-Fi and 4G are available as connectivity options.

"We are routinely told that managing payments is one of the biggest pain points for business owners, yet when we looked at the market we found an opportunity to create a platform that could dramatically change the way our customers do business," said ANZ Australia executive Fred Ohlsson.

ANZ said six point-of-sale vendors now developing customised applications for the new platform are NCR, RedCat, H&L, SureFire, Abacus and Shout for Good. The six are said to be currently building applications that include features such as order-and-pay-at –table; split-bill and tipping options; ability to e-mail and SMS receipts; and staff shift clock-on functions, the bank added.

In order to use BladePay, businesses must be ANZ merchant customers and use a point-of-sale system provided by one of the six vendor partners.
To read more, please click on the link below…
Source: ANZ Strikes Again: After Apple Pay Comes BladePay | channelnews