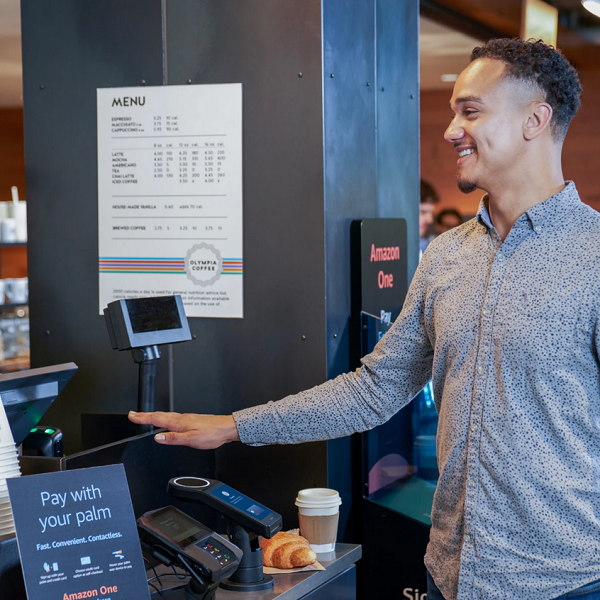 Amazon's palm payment technology Amazon One surpasses 3 million users in the U.S.
Amazon One is Amazon Web Services' palm recognition service which is used for identification, payment, loyalty membership, and entry at over 400 locations across the U.S., and has now reached a critical milestone with more than 3 million users.
For retail stores that utilise Amazon One, customers who choose to use Amazon One will no longer need their wallet or even a phone to pay, they can simply hover their palm over an Amazon One device.
In addition to Amazon One's availability at stores like Amazon Fresh stores and Whole Foods Market locations, third-party businesses are increasingly offering Amazon One as an identification and payment option for their customers—and some of them are also using Amazon One in new ways.
Travel retailers, like Hudson, CREWS, and OHM, understand the benefits of palm payment in busy airport environments, and have deployed Amazon One at their airport stores in Atlanta, Charleston, Dallas, Dulles, Kansas City, Los Angeles, Newark, Nashville, Seattle, and more. Sports venues are revolutionizing the fan experience through partnerships with businesses like AXS, Compass, Delaware North, Levy, Penn Entertainment, Sodexo, and others. Currently, Amazon One is available at sports stadiums like Bridgestone Arena, Climate Pledge Arena, Globe Life Field, Lumen Field, T-Mobile Center, T-Mobile Park, NASCAR Raceway, and Texas A&M's Kyle Field, as well as entertainment venues like Hollywood Casino at Greektown in Detroit, and more. Amazon One is also available at several grocery and convenience stores.
Amazon One helps businesses speed up their identification and payment processes, enable customers to easily link to and access their loyalty programs, verify age, and provide secure access to sports and entertainment venues, office buildings, and more.
Amazon One has partnerships with American Express, Discover, MasterCard, Visa, and major banks across the U.S., enabling cardholders to use Amazon One and enjoy the benefits of fast and convenient identification and payment.
Additionally, unlike a credit card or password, an Amazon One palm signature can't be replicated to impersonate a customer. That's because Amazon One does not use raw palm images to identify a person. Instead, it looks at both the palm and underlying vein structure to create a unique numerical, vector representation—called a "palm signature"—for identity matching.
"Forget credit cards, tap-and-go and digital wallets, when is this technology coming to Australia," local Brisbane shopper Jamie Benson quizzed. "This technology is great – soon we won't have to carry around anything to make payments, or to show ID."
Further, customer palm data is safeguarded in the AWS Cloud and Amazon One is protected by multiple security controls and has tamper-detection capabilities that will render the device unusable if meddled with.