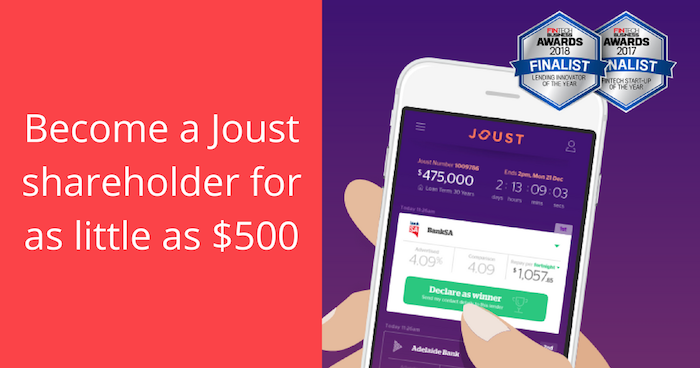 Adelaide fintech startup Joust seeking to raise $2m in Equity Crowd Funding
Adelaide fintech startup Joust is launching an equity crowdfunding campaign via OnMarket and is hoping to raise $2 million to rapidly scale the business.
The Joust platform, launched in 2016, links borrowers with more than 20 lenders who compete against each other to offer the lowest interest rate via a reverse auction process.
Using equity crowdfunding platform OnMarket, the company plans to spend a large portion  of the money raised on advertising, with the remaining funds to go towards product development, potential entry into overseas markets and building out the Joust team.
A minimum $700,000 is being sought as part of the capital raise, which allows retail investors to invest between $500 and $10,000.
Joust chief executive Mark Bevan said the equity crowdfunding model suited the company's consumer focused brand.
"We've been watching the equity crowdfunding legislation progress in Australia for two years or so," he said.
"If we were to raise $2 million from say 2000 investors, it's highly likely that they will instantly have 2000 new customers and 2000 new advocates.
Joust's existing shareholders include Adelaide Football Club chairman and former BankSA managing director Rob Chapman and NOVA Entertainment Group.
Mr Bevan said more than 2100 customers had used Joust since its launch two years ago, with more than $1 billion worth of prime home loans auctioned on the platform.
Joust's crowdfunding campaign is currently open to pre-registered investors and via the attached link: https://www.onmarket.com.au/offers/joust-australia-limited/
The offer is expected to close on August 3.