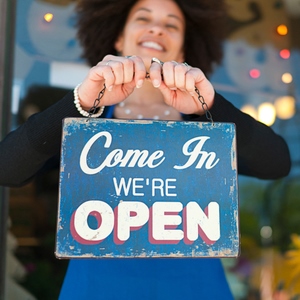 A Better, Faster, Safer, Infallible way to trade… Helping businesses stay afloat!
The one thing that ALL businesses have in common, regardless of their size, product, or service offerings, is their single point of failure; the inability to trade when the EFTPOS system is offline / no signal, or the phone lines crash or the power goes out.
Recently we have seen several natural disasters in WA, like Kalbarri for example, where 4+ months later facilities are still not secure. Today whilst being interviewed on 6PR NewsTalk Shire of Northampton deputy president Shane Krakouer told Liam Bartlett the situation is taking a heavy toll on local businesses. "Yesterday we had no landline telephones, no internet connection and no EFTPOS there for a while, it makes it very hard to stay in business."
Businesses can't transact, and purchasers can't buy. Leading to massive losses for perishable industries and frustration for business owners and consumers. Not to mention that people were unable to access their own money, via ATM's or bank transfer, to buy necessities.
One Downdetector.com.au user commented, "This is unacceptable, I have no money in my savings account, can't pay for fuel or food, tried to transfer some cash into savings from an emergency account based in NetBank but it turns out NetBank is inaccessible due to maintenance. So, I'm locked out of accessing my own money to pay for essential goods."
Until now, Australians have had no alternative to 'Tap n Pay' or Cash transactions and whilst everybody has been at the mercy of the terminal, Businesses have borne the costs.
Merchants who embrace this innovative platform will no longer have to pay rental for an EFTPOS terminal, a separate phone line to operate the terminal or high transaction fees. Nor will they need to wait 2-3 days to receive their money after a 'fair day's trade'.
This may be the most sustainable and economically viable decision they make?
The Reserve Bank's New Payments Platform (NPP) is a new national payments infrastructure for Australia. It provides a fast, secure, flexible and data-rich payments system for Australians and provides a means for future growth and innovation.
The NPP was partially funded by the large banking institutions and was rolled out across Australia in 2017; we then saw the introduction of PayID and OSKO payments.
Ziksu, a new digital banking platform, is the first of its kind and the first to utilise the NPP QR code technology in Australia. The NPP QR Code Standard has been designed to support a consistent NPP payment experience for both static and dynamic QR Codes, across a number of NPP use cases including e-commerce, invoices, in-store, and P2P scenarios.
Ziksu's banking platform is available 24/7 and must abide by all the same legislative compliance and regulatory bodies as all other Australian banks. The latest Technology and safety systems are all in place.
Ziksu users can download the App to their mobile device, provide identification for verification purposes and receive a BSB, Account Number and PayID in under 3 minutes. They can then send and receive payments immediately.
Merchants can open an account and trade for free in September and then from October, only pay a low 1% transaction fee. This will lower their overheads and put their money in their hands immediately.
Because the funds are received instantly, there is no loss to business as they have been paid in full, into their account, prior to releasing their product, providing their service, or preparing a meal.
Ziksu means 'Helper' in Sanskrit and was created to help small and medium businesses, with the primary focus on family-owned business.
Best of all, it is ALWAYS free for consumers and users can access their own money 24/7 and transfer money in real-time between their bank accounts, regardless of which Australian Bank their funds are in.
There is no lock in contracts and no ongoing fees. Merchants simply use their existing smart phone and are not required to rent any specific hardware or pay for installation of infrastructure.
The dynamic and static QR codes are printable, for counter display, and can also be uploaded into ecommerce stores.
Each user has their own unique, encrypted QR code and the ability to create an infinite number of static and dynamic codes. To purchase, the consumers simply Scan n Pay and the Merchant receives the funds immediately.
The Ziksu platform is timely, given the current pandemic, as it is the first truly contactless payment system, even when a PIN is required, the purchaser inputs the PIN on their own device.
Ziksu is proudly West Australian owned and humanity driven; By offering a 3rd alternative for receiving payments, together with the NPP, they are set to revolutionise the way Australia banks.
QR codes have been widely accepted in Australia, since the introduction of the SafeWA contact recording App. Many businesses are utilising QR codes for supply of information, providing a service, like ordering meals or directing scanners to websites etc.
Ziksu have developed QR codes as per the Australian NPP banking standards and therefore its secure and cannot be read by other QR code scanners.