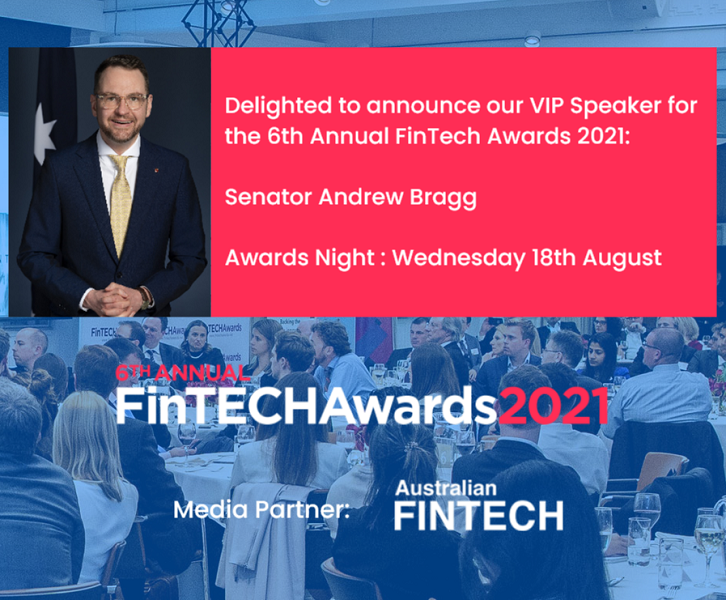 6th Annual FinTech Awards 2021 announces partnership with Global Law Firm, Ashurst: Senator Bragg confirmed as VIP Speaker
The 6th Annual Australian FinTech Awards 2021 will be held in Sydney on Wednesday 18th August.
Global Tier One Law Firm, Ashurst announced as Event Partner for the 6th Annual FinTech Awards.
"I am delighted to be Partnering on The 6th Annual FinTech Awards 2021 with Ashurst; their ongoing support of this event is outstanding and demonstrates their long term commitment to entrepreneurs, and the fintech and financial services sector," said Glen Frost, Founder of The FinTech Awards.
Senator Andrew Bragg confirmed as VIP Speaker for the Awards night.
"Senator Bragg is an advocate for fintech entrepreneurs, helping to create the right legislative environment for fintechs to flourish here and grow overseas, and we are delighted to welcome the Senator back again as our VIP Guest," said Frost.
Award categories have expanded again this year – reflecting the dramatic growth of new fintech players into every facet of banking and finance; new awards include:
BEST BUY NOW PAY LATER PLATFORM
BEST FINTECH SUPERANNUATION SERVICE/PLATFORM
BEST OPEN BANKING SOLUTION
YOUNG FINTECH LEADER OF THE YEAR
BEST SOCIAL MISSION FINTECH
"We've added new categories to ensure everyone has the opportunity to be recognized for their achievements and success," added Frost.
Australian FinTech announced as Media Partner for the 6th Annual FinTech Awards:
"For the past 6 years we have partnered with Australian FinTech as our media partner; I am delighted to partner with Australian FinTech again this year, the Number One place for news and information in fintech," said Frost.
"Australian FinTech are again honoured to be supporting these prestigious FinTech Awards as the media partner," said Cameron Dart, CEO, Australian FinTech. "As the fintech industry goes from strength to strength each year, so do these awards and the quality of the recipients."
KEY DATES:
Submissions: Open 1st JULY
Awards Night: Wednesday 18th August 2021
More information: www.fintechawards.net
Contact: Glen Frost, Founder, FinTech Awards.
Email: glen@famfi.com.au
The FinTech Awards are for Australian companies and individuals. Overseas based fintechs are not eligible for these awards.