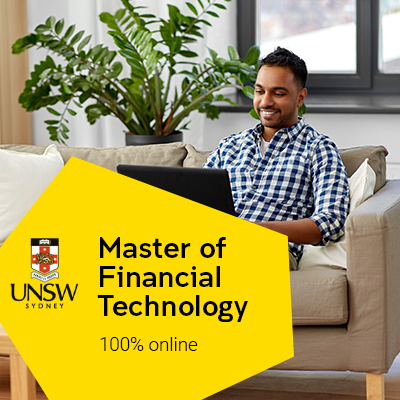 UNSW launches 100% online postgraduate degree to prepare students for the technological revolution in finance
University of New South Wales (UNSW) Online has launched Australia's first 100% online Master of Financial Technology degree of its kind to respond to the technical revolution in finance. Encapsulating robotech, cryptocurrencies, artificial intelligence (AI) and FinTech innovation, graduates of this program will be able to seize competitive opportunities in the growing financial technology sector.
The Financial Technology (FinTech) industry continues to experience rapid transformation, with cash payments across Australian businesses predicted to fall below 2% by 2022 and create a virtually cashless society.1
The use of FinTech in the Australian market continues to accelerate amidst the COVID-19 pandemic and is experiencing increased demand for professionals that are adept in areas such as compliance, blockchain, app development, data science and AI.
UNSW Online Master of Financial Technology Senior Lecturer and Program Director, Luis Goncalves-Pinto, said that the program has been designed for ambitious professionals that are familiar with the financial services industry.
"Our Master of Financial Technology offers students a unique opportunity to interact with individuals from very diverse backgrounds, such as finance, engineering, and computer science, to foster important synergies and facilitate the implementation of innovative ideas that can continue to disrupt the financial services industry," he said.
"Those with expertise in FinTech can set themselves apart from other job seekers by building a strong knowledge of programming and the ability to handle new and large datasets to help improve financial products and services," Mr Goncalves-Pinto said.
The flexible 100% online program is delivered by Australia's top ranked school of Banking and Finance and is designed to seamlessly fit in with full-time work commitments to allow students to graduate in as little as two years.
UNSW's School of Banking and Finance Head, Associate Professor Li Yang, said the innovative program will enable the next generation of financial technology professionals to seize opportunities within the evolving landscape and adapt to future challenges.
"We are very excited with this new fully online program, as it is the first of its kind on the market, fitting perfectly and complementing very well the large suite of programs already being offered by our school. It is our best response to the increasing demand for finance and technology skills in this new era of disruption for the financial services industry."
The Master of Financial Technology will focus closely on ethics and governance, and provide students the opportunity to experience real-world applications, participate in 'live' examples, and network with industry leaders.
Study intakes are offered every two months, with the Master of Financial Technology currently open for enrolments into its first study period in September 2020.
Learn more about how you can respond to the technological revolution in finance with UNSW Online here.
---
1The Reserve Bank of Australia's 2019 Consumer Payments survey