CREALOGIX Group – We Create Digital Leaders
The CREALOGIX Group is a Swiss Fintech 100 company and is among the global market leaders in digital banking. We develop and implement innovative fintech solutions for the digital bank of tomorrow. Banks can use our solutions to react to evolving customer needs in the area of digitalisation, enabling them to hold their own in a very demanding and dynamic market and remain one step ahead of their competitors.
The group, founded in 1996, has more than 700 employees worldwide. The shares of CREALOGIX Group (CLXN) are traded on the SIX Swiss Exchange. We provide banks with reliable and forward-looking support for their "Digitisation Journey". We empower them to successfully master the inevitable digitisation of their business as well as offer opportunities and perspectives that actively shape the digital future of the financial world.
With our years of experience and our unique innovative solutions, we are the trustworthy partner for secure digital transformation and the early development of new growth potential.
Solutions
CREALOGIX has a suite of products created for the segments of wealth management, retail banking as well as Corporate / SME banking. The common engine driving these products is the Digital Banking Hub which acts as a core architecture to open banking and allows banks to integrate seamlessly with third party providers via APIs. With our ready-to-use products and modules, banks can offer their customers digital services for mobile banking or financial management, thereby creating customer loyalty.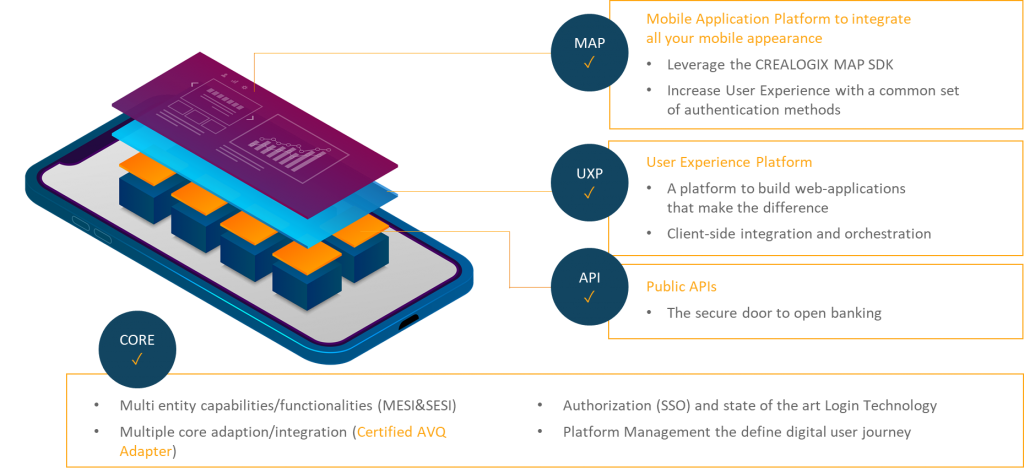 CREALOGIX Digital Banking Hub – Proven. Trustworthy. Innovative.
The Digital Banking Hub is innovative technology that is not only proven and trustworthy, but also cloud and SaaS (Software as a Service) enabled—providing your firm with the agility to interact and engage with today's digital-savvy customers, at pace. It includes a core foundation and user experience and mobile application layers.
Click here to learn more about CREALOGIX Digital Banking Hub or download our brochure.
CREALOGIX User Experience Framework – Optimise customer experience
A framework that helps you design and deploy customised web-based user experiences across desktop and mobile applications, enabling you to engage your customers with modern and convenient digital banking functionality across multiple channels.
Click here to learn more about CREALOGIX User Experience Framework.
CREALOGIX Mobile Application Framework – Easy smartphone engagement
Our framework enables you to create and customise end user-facing software for mobile-first customers, providing them with fast and easy mobile access to banking and wealth management information, anytime, anywhere.
Click here to learn more about CREALOGIX Mobile Application Framework.
Watch CREALOGIX's latest innovative customer journeys:
CREALOGIX Perform – Personal Finance Optimisation
CREALOGIX Tower – AR Banking
CREALOGIX Conversational – Conversational Banking
Download CREALOGIX's free whitepapers:
Get in touch for a call/demo:
Jon Marks, Senior Sales Manager: jon.marks@crealogix.com
Katt Becht, Marketing Specialist: katthaleeya.becht@crealogix.com
CREALOGIX Asia-Pacific
Location:             5 Shenton Way, UIC Building #10-01, 068808 Singapore
Phone:                 +65 6932 2804
Email:                  contact-apac@crealogix.com
Website:              www.crealogix.com/en
Blog:                    www.blog.crealogix.com/en/
Twitter:                www.twitter.com/CREALOGIX_EN
Linkedin:             www.linkedin.com/company/crealogix/