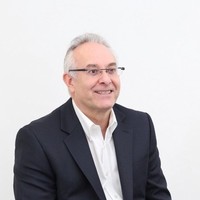 Former CTO and Co-Founder of the UK's first digital bank joins Queensland's DayTek Capital
Paul Hanks, the former Chief Technology Officer and Co-Founder of the UK's Atom Bank, has joined DayTek Capital as a Technology Advisor.

A seasoned and respected banking technology heavyweight, Mr. Hanks has held a series of high-profile positions, including, interim CIO of Fiserv Agiliti, lead design architect for the front-office separation of Lloyds Banking Group to form TSB, Director within the FSBU at Capgemini, and CTO at Beneficial Bank (now part of HSBC).

Mr. Hanks said of joining DayTek Capital,

"I am extremely excited to be supporting DayTek Capital and their mission to build Australia's first 'product-disruptive' bank, Infinity. Infinity will have a significant impact on the banking sector going forward. What they are looking to achieve is not something I have witnessed in the banking sector before and will radically escalate what customers will expect from their banks going forward. I am excited to be working with Will Banks and the DayTek Capital team to provide a truly disruptive and innovative bank into the Australian market."

During his tenure at Atom Bank, Mr. Hanks was responsible for the technical and business architectures of the bank, taking the design from its inception through to mobilisation and operational launch. Atom was one of the first banks to go through the UK's new bank approval process and he was instrumental in shaping Atom's thoughts on the use of technology within the new banking arena.

Mr. Hanks was recognised for his service to the banking community in 2015, being presented with the KPMG Award for Financial Services Technology Innovation.

Will Banks, Co-Founder and Chief Executive Officer of DayTek Capital, said,

"With the combination of Paul's experience and focus on innovation, we are delighted that someone of Paul's calibre has joined DayTek Capital as a Technology Advisor. His track record speaks for itself, and, thus, we are very much looking forward to working with Paul."

DayTek Capital is on track to launch Infinity in the first half of this year, with a vision to becoming the first "product-disruptive" bank in Australia. The appointment of Mr. Hanks, along with the continued support from the Australian Federal Government and Trade & Investment Queensland, strengthens DayTek Capital's commitment to provide a real alternative to the traditional banking model. Their licence application is only days away from submission.
To read more, please click on the link below…
Source: Former CTO and Co-Founder of the UK's First Digital Bank Joins Queensland's DayTek Capital – Press Release – Digital Journal