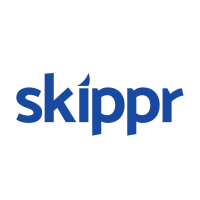 CML Group makes strategic acquisition of Skippr to enhance tech capability
ASX-listed CML Group advise it has entered into a binding agreement to purchase 100% of the shares in Skippr Invoice Finance for an intial payment of $2.25m via a mix of cash and scrip at CML's election. A maximium transaction price of $6.5m is payable if all earn-out hurdles (a substantial multiple of current funding volumes) are achieved over the next 2.5 years.
Skippr Overview
Founded in 2016, Skippr is a proprietary online platform, providing invoice financing solutions to SME clients. Following an ownership change in April 2019, the platform was redesigned and rebuilt to deliver an end to end invoice finance solution, with a beta version of the new platform rolled out in October 2019.
By directly accessing cloud accounting technology (Xero, MYOB, QuickBooks), Skippr seamlessly integrates with a client receivables book. This enables transparency over new invoices and efficient approval for funding, simple and automated payment reconciliation and real-time oversight of account transactions.
Strategic Benefits to CML
Since the beta launch, Skippr has onboarded 25 clients without a dedicated salesperson and with total marketing spend of less than $50,000. The implied cost of client acquisition of $2,000, compares favourably with CML's historical cost of acquisition of approximately $20,000 and demonstrates Skippr's ability to profitably onboard customers with smaller loan books. The current loan book sits at $1.2m.
CML has historically not actively targeted smaller clients (receivables book below $200k) as they have not been able to profitably service them. The Skippr platform now provides CML with the capability to profitably service smaller clients, access smaller clients that will become larger clients (a successful previous acquisition strategy) and improve client retention through a better and more automated user experience for existing and new clients.
By improving the online accessibility of CML's invoice finance solutions, CML will increase our exposure to a broader range of SME clients, significantly increasing the current addressable market.
Following completion of the acquisition, CML will combine the online Skippr platform with its current offerings (Cashflow Finance & Classic Funding Group) to launch an expanded product. 
Daniel Riley, CEO of CML said, "The acquisition of Skippr brings forward our technology development by two years. We see this as extremely important as Australian SME's begin to source alternative working capital facilities such as invoice financing as they start to come out of COVID-19. We have been pleased with the recent rebound in performance in June which has continued in July and our ability to offer more automation which will enable us to service smaller clients while providing our existing and future clients with a better customer experience will be important to maintain the growth we expect over this and future years."