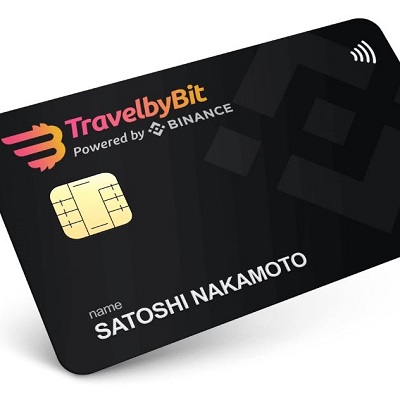 Binance and TravelbyBit launch crypto rewards card
Meet the Binance and TravelbyBit prepaid cryptocurrency debit card, coming to a planet near you in early 2020.

Binance and TravelbyBit have partnered to launch a new cryptocurrency-backed travel rewards card.

This means that as soon as early 2020, you'll be able to load a travel rewards card with BUSD, BTC, BNB and ONT, pay with that crypto card at top travel sites like Booking.com, Expedia and Agoda (and TravelbyBit, of course) and earn rewards as you do.

Plus, it's also a straightforward cryptocurrency-loaded prepaid debit card, so it's not just for travel. It can be used to make withdrawals from ATMs, buy things at stores, scrape ice off your car windscreen on your next cryptocurrency-powered ski trip, and so on.If you're already excited about pulling this thing out of your wallet, you can join the waiting list here.

The card will initially be available throughout Southeast Asia, Australia and Europe, with more countries gradually being added after launch. The project was initialised by TravelbyBit, in collaboration with the Binance development team.

In the bigger picture, it's also a significant step towards the wider use of cryptocurrency.
To read more, please click on the link below…
Source: Binance and TravelbyBit launch crypto rewards card | Finder