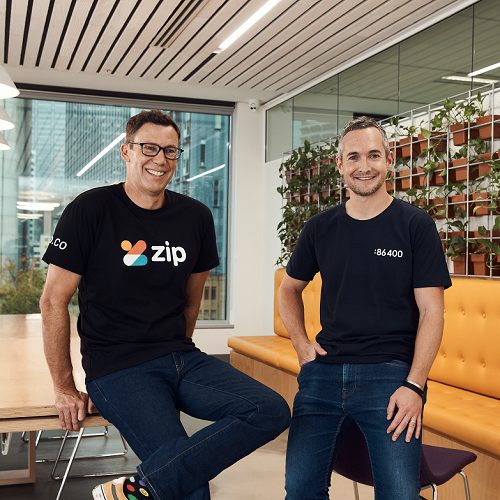 Australian fintechs Zip & 86 400 partner to accelerate change in financial services
Credit card disruptor Zip Co & smartbank 86 400 have today announced an ongoing partnership that will accelerate change in financial services and help Australians take better control of their money.
The partnership between two of Australia's leading fintechs will combine their technological expertise to tap into the growing trend of Australians looking to leave traditional banking and financial products for smarter, fairer digital alternatives.
With its connected accounts feature, 86 400 customers can already connect and view their financial accounts from over 100 institutions inside the 86 400 app, giving them visibility of their full financial picture. The first move in the 86 400-Zip partnership, launched this month, has enabled 86 400 customers to link and view their Zip Pay and Zip Money accounts, enabling transactions and balances to be seen within the smartbank's app. 
Later this year, 86 400's service will be further enriched with the integration of our Customer Experience Engine with Zip's consumer products providing our customers greater visibility to their finances.
86 400 CEO Robert Bell said, "Zip and 86 400 are like-minded, purpose-driven businesses. We were both built to give Australians better experiences with their money, and so by working together, we can accelerate our shared mission." 
Zip Co CEO Larry Diamond said, "Millions of Australians are looking for new and better ways to pay and are adopting smarter technologies, such as 86 400 that help them better manage their banking. It was an absolute pleasure working with 86 400, a digital-first organisation like Zip, where customers can now access the latest in everyday banking. We are equally as excited about new features that make it even easier for customers to leverage both companies' offerings within a seamless digital experience."
"Both Zip and 86 400 invest heavily in technology, and we have a single-minded focus on doing what's right for the customer, every second of every day. Be it our Energy Switch service, or Zip's Shop Everywhere feature, these products enable Australians to get more out of their money," Mr Bell said.